Super simple and healthy beef and broccoli stir fry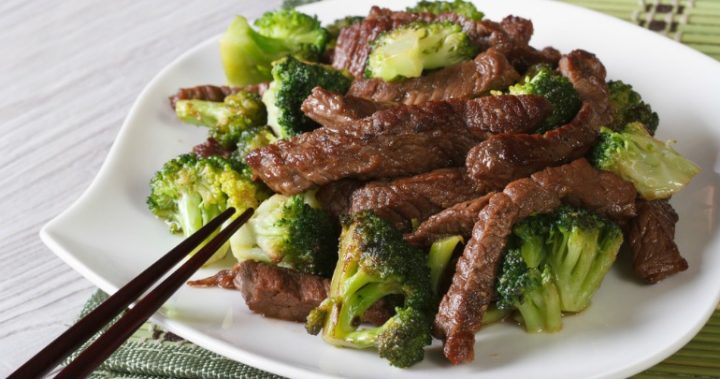 If you're after a really simple, yet healthy dinner, you can't go past a classic beef and broccoli stir fry.
Not only is it quick and easy to make, but it's healthy too, and packs an absolute flavour punch! Served over plenty of fluffy white rice, it makes a tasty and nutritious meal. Perfect for those nights when you might not have much time to prepare and cook.
Ingredients
500g flank steak sliced into 1/2cm strips
3 cups small broccoli florets
1/2 cup beef stock
5 cloves garlic, crushed
2 tablespoons corn flour
1 tablespoon canola oil
1/2 cup low sodium soy sauce
1/4 cup brown sugar
2 teaspoons corn flour
Method
In a large bowl, toss the beef strips in the 2 tablespoons of corn flour.
In a frying pan, heat oil over a medium heat, then add beef and cook, stirring, until browned. Transfer to a plate and set aside.
Add broccoli and garlic to the pan, and stir in beef stock. Simmer for around 10 minutes, or until broccoli is tender.
In a small bowl or jug, combine soy sauce, brown sugar, and 2 teaspoons of corn flour. Add to the pan, along with the cooked beef and simmer for 5 minutes or until sauce thickens.
Serve over fluffy white rice.