Slow cooker chunky beef stew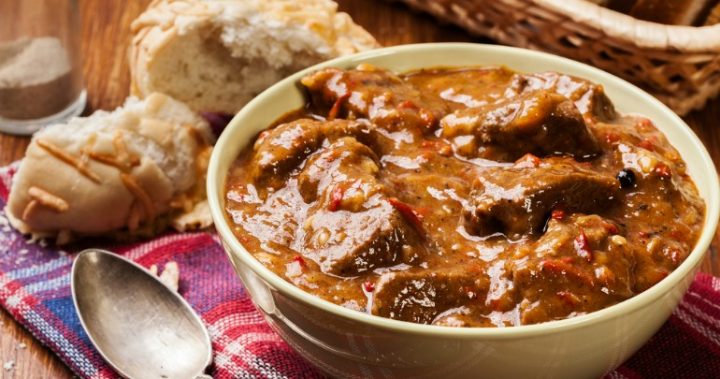 If you've fallen victim to one of the many, many colds, flus, and viruses making their way around at present, or you're simply freezing in this harsh winter, you're probably in great need of a hearty meal.
This one is for you! Falling apart, rich meat, in a delicious gravy, and add any vegetables you wish.
Serve with fresh, crusty bread for the ultimate winter comfort food, and you'll be feeling fighting fit again in no time!
Ingredients
1kg lean chuck or other beef, cut into large bite-sized pieces
1/4 cup flour
2 tablespoons extra-virgin olive oil
3 large potatoes, peeled and chopped into large bite-sized pieces
1 can diced diced tomatoes
1 clove garlic, crushed
1/2 cup chopped onion
1 teaspoon balsamic vinegar
1 bay leaf
1/2 teaspoon sea salt
1/2 teaspoon black pepper
1-1/2 cups low sodium beef stock
2 teaspoons Worcestershire sauce
1 teaspoon dried oregano or 1 tablespoon fresh, chopped oregano leaves
1 teaspoon paprika
Method
1. Combine flour, salt and pepper, add beef cubes and toss to coat.
2. Add olive oil to a large frying pan over a medium-high heat. Cook the beef until golden on the outside (it doesn't need to be cooked through).
3. Transfer meat and its juices to the slow cooker, then add onions, potatoes, Worcestershire sauce, and diced tomatoes.
4. In a jug, combine balsamic vinegar, beef stock, garlic, oregano, paprika, and bay leaf then add to the slow cooker.
5. Cover, and cook on high for 4-6 hours or on low for 8-10 hours.