Show-stopping mushroom and asparagus Wellington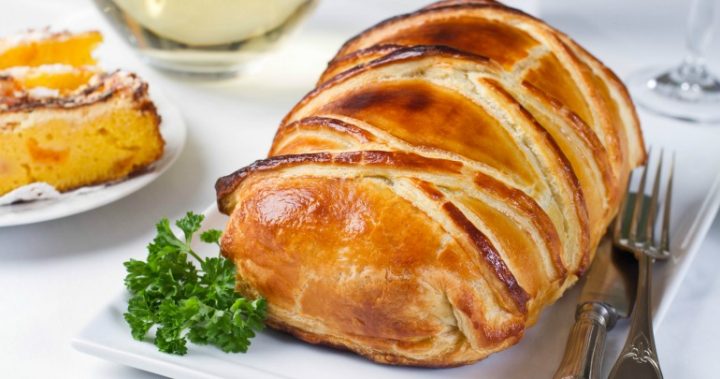 This mouthwatering wellington recipe is a modern take on an old English classic.
The rich mushrooms, crunchy crushed nuts, sweet asparagus and crispy pastry make this wellington a flavour sensation that will not soon be forgotten.
Great on its own, this tasty wellington also works well with a side salad or potatoes and greens. It's a perfect vegetarian option for a special occasion and is sure to knock the socks of even the biggest meat-eaters.
Dig in!
Ingredients
2 tbsp extra-virgin olive oil
2 large French shallots, peeled, chopped
350g portobello or swiss brown mushrooms, trimmed, coarsely chopped
2 garlic cloves, chopped
125g raw cashews
125g raw almonds
1 tbsp finely grated parmesan or vegetarian hard cheese
1 tbsp fresh lemon juice
2 bunches fresh chives, snipped
100g mixed mushrooms, trimmed, sliced
375g packet puff pastry, just thawed
1 bunch asparagus, trimmed, halved, blanched
1 egg, lightly whisked
Method
Heat 1 tbsp of olive oil in a frying pan and cook shallots for 5 minutes.
Add garlic and chopped mushrooms and cook until tender for 5-8 minutes.
Take off hotplate and set aside to cool.
Grind cashews and almonds in a food processor until combined into a fine meal.
Put aside and process the mushroom mixture in the processor.
Add nuts back in and then add the parmesan, lemon juice and half the chives.
Stir them together to combine.
Add remaining olive oil to a new saucepan and heat on medium.
Cook sliced mushrooms for 5 minutes and remove to cool.
Prepare some lightly floured baking paper.
Roll pastry out on the baking sheet into a 28 x 33cm rectangle.
Once done, evenly spread remaining chives over pastry whilst making sure you keep a 3cm border.
Place cooked, sliced mushrooms in a wide strip down the centre of the pastry.
Place half the nuts and mushroom mixture over the top of mushrooms in a long strip.
Make an indent down the centre of the mixture and place the asparagus lengthways.
Place the other half of the nut mixture on top and brush the pastry edges with egg.
Fold up the pastry by wrapping the ends over each other to encase the filling.
If you have any leftover pastry you can create a plaited design on top.
Place the wellington on a prepared baking tray with the steam-side facing down and brush the top with egg.
Preheat the oven to 220°C.
Place the wellington in the fridge for 15 minutes to cool.
Once cooled, score the top of the wellington and bake for 40-45 minutes until golden brown.
Once the wellington is done, leave it to rest for 10 minutes and enjoy.
Serve with mashed potatoes and vegetables!