Old fashioned custard tart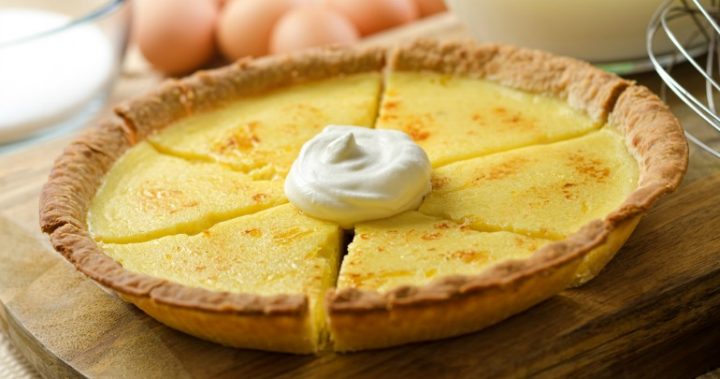 With the wide range of modern, fancy desserts available these days, we've forgotten about the humble, understated desserts that Grandma used to make. Forget about the macarons and parfaits, this one is a classic. 
With its delicious pastry crust and creamy custard filling, the custard tart is one of the most underrated desserts out there. It is one of those classic Australian dishes that everyone remembers, up there with vanilla slices and pavlovas, and a firm favourite in the CWA baking contests. You'll be guaranteed to find them in any country town bakery worth their salt, but there's no need when you can make it from this simple, delicious recipe at home. 
Give this easy recipe a try, and feel the nostalgia rushing back. 
Ingredients
1 sheet pre-rolled shortcrust pastry
3 large eggs
1/2 cup of sugar
1/2 teaspoon of salt
1/2 teaspoon of nutmeg
2 2/3 cups of milk
1 teaspoon  vanilla extract
Ad. Article continues below.
Method
1. Preheat oven to 180C.
2. Line your pie dish with the pastry sheet, and pinch the edges. Partially bake, until edges are golden.
3. Lightly beat the eggs, then add sugar, salt, nutmeg, and milk. Beat well and pour into the crust.
4. Bake for 35-40 minutes, then remove from the oven and allow to cool.
5. Sprinkle with nutmeg before serving.