Mouthwatering herb-and-garlic meatloaf with butter sauce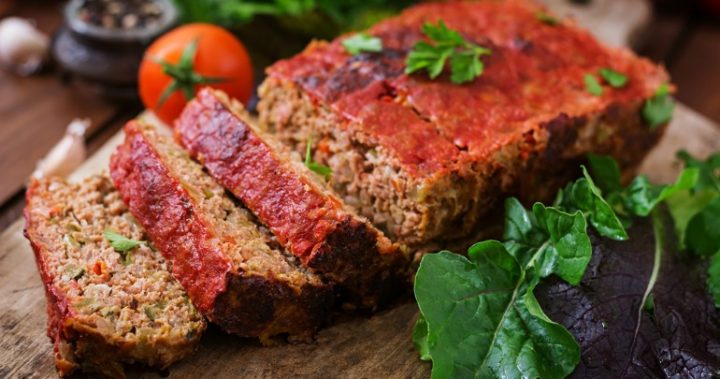 Meatloaf is one of those classic dishes that never goes out of fashion.
It was often loved not only because it was cheaper to make than a typical roast, but also because it is simply delicious.
There aren't many ways you can improve a hearty meatloaf meal, but after trying this mouthwatering herb and garlic meatloaf with butter sauce, you won't go back.
Ingredients
For the meatloaf
450g minced beef
450g minced pork
2 tablespoons oil
2 stalks celery, diced
1 clove garlic, crushed
1 onion, diced
4 slices bread
1 tablespoon chopped fresh parsley
1 tablespoon chopped fresh chives
1 tablespoon chopped fresh sage
1 tablespoon chopped fresh thyme
2 eggs
1 teaspoon salt
1/2 teaspoon pepper
1/4 cup milk
For the garlic butter sauce
3/4 cup olive oil
8-10 garlic cloves
2 cups salt-reduced chicken stock
1/2 cup water
3 tablespoons unsalted butter
1 teaspoon chopped fresh parsley
Salt and pepper, to taste
Method
1. Preheat oven to 190C and line a baking tray with nonstick baking paper.
2. Heat oil in a frying pan over a medium heat and cook celery, garlic, and onion for 5 minutes or until soft. Place them in a large bowl, and combine with the pork beef, parsley, chives, sage, and thyme.
3. Pulse bread in a food processor to form coarse crumbs. Add to meat mixture along with the eggs, salt and pepper, and milk and mix until well combined.
4. Place meatloaf on the baking tray and form into a cylinder shape. Bake for 40 minutes or until browned and cooked through.
5. To make the garlic butter sauce, bring the oil and garlic to a boil in a small saucepan, then simmer for 10 minutes or until garlic is gently browned. Remove garlic from oil and set aside, discarding the oil.
6. In the saucepan, bring to the boil the stock, water, butter, and cooked garlic, then simmer for 30 minutes or until thickened. Mash the garlic with a fork, and add the parsley and salt and pepper before serving.