Healthy honey and almond slice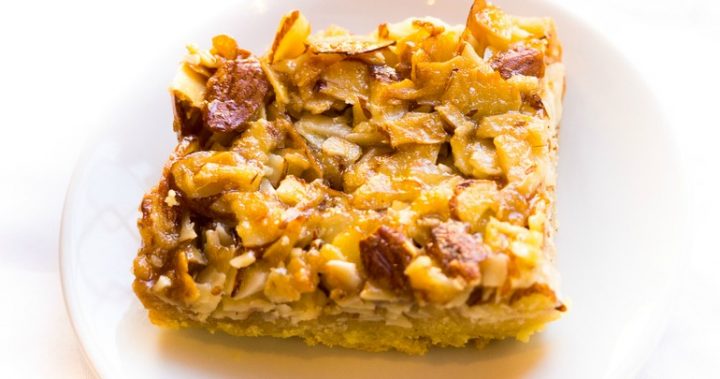 If you're after a healthier slice for morning or afternoon tea, or even for a quick breakfast or snack on the go, you're going to just love this healthy honey and almond slice.
Made with low fat spread instead of butter, and almond meal with reduced sugar, it is both delicious, and healthier than your traditional slices.
It feels like an indulgence, but one that you can tuck into without the guilt!
Ingredients
65g margarine spread melted
¼ cup brown sugar firmly packed
⅔ cup plain flour
½ cup almond meal
80g margarine spread
2 tablespoons honey
1 cup slivered almonds
Method
1. Preheat oven to 170C, and grease and line a 25 x 25cm slice tin.
2. Mix together 65g melted margarine, brown sugar, plain flour and almond meal in a large mixing bowl.
3. Press the mixture firmly into the base of the prepared slice tin and bake for 12 minutes, or until golden brown, and set aside to cool.
4. Combine the remaining 80g butter and honey in a small saucepan and simmer for 3 minutes.
5. Add the slivered almonds and spread the topping evenly over the base, then bake for a further 15 minutes or until golden brown.
6. After cooling, slice into squares to serve. Keep in an airtight container.