Grilled brown-butter honey-garlic salmon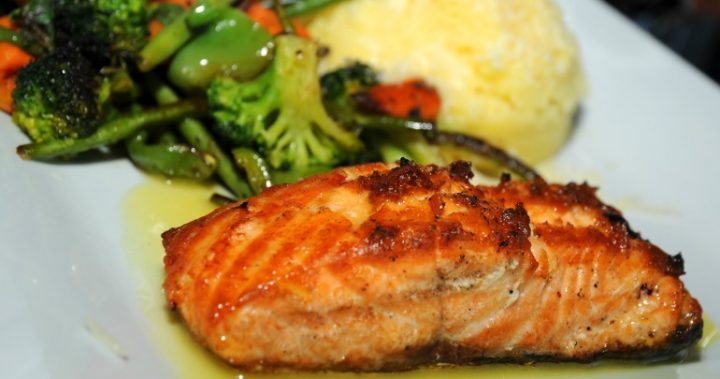 This amazing salmon dish is just to die for. The rich taste of the browned butter infused with garlic, and sweetened with a little honey gives an already delicious cut of fish just the most unique and stunning flavour.
Salmon is of course incredibly healthy, so you can enjoy this dish without any guilt, knowing that it's really good for you as well as yummy.
Serve this one up with your favourite steamed or stir-fried veggies, and some mashed potatoes for a tasty, nutritious, and filling meal.
Ingredients
4 tablespoons fat butter
4 tablespoons honey
1 tablespoon fresh squeezed lemon juice
2 cloves garlic, crushed
4 salmon fillets
Sea salt
Lemon wedges, to serve
Method
1. Preheat oven to grill setting.
2. Place butter in a medium frying pan and cook over medium heat, stirring continuously for 3 minutes or until the butter changes in colour to a golden brown with a nutty fragrance.
3. Add honey, lemon juice and garlic and stir to combine. Cook for 1 minute then remove from heat and pour half of the liquid out for later.
4. Add salmon fillets to the remaining butter in the pan and sear for 3-4 minutes or until golden-brown.
5. turn the fillets over and place in the oven to grill for a further 6 minutes.
6. Season to taste, and serve drizzled with the reserved butter.