Flavourful roasted tomato and garlic soup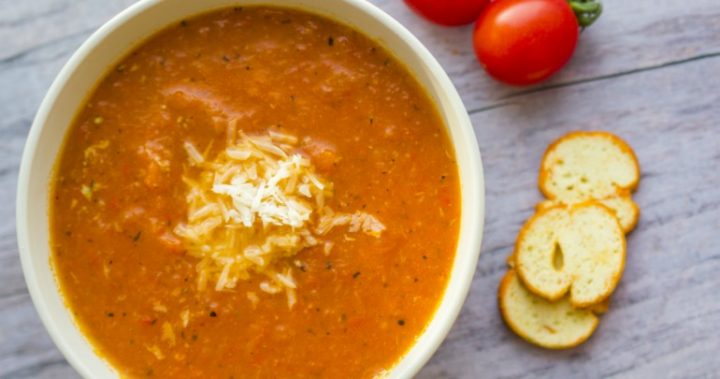 The last month of winter is the perfect time to take advantage of tasty, wholesome soups before it becomes too warm again!
This delicious roasted tomato and garlic soup is just delicious! It's bursting with the kind of flavour you can only get from roasting, and is healthy as well.
There's no better lunch or dinner than a big bowl of tomato soup with a hearty slice of crusty bread or toast.
Ingredients
2kg Roma tomatoes sliced in half lengthwise
1 whole garlic bulb
1 onion, diced
2 stalks celery, diced
2 carrots peeled and sliced
2 leeks green top removed, sliced
1/2 cup olive oil
1 tablespoon fresh oregano, finely chopped
1 tablespoon fresh rosemary, finely chopped
1 tablespoon fresh thyme, finely chopped
4 large leaves basil finely chopped
2 teaspoons sea salt
1 teaspoon dried parsley
Black pepper
2 bay leaves
1/8 teaspoon red chilli flakes
450ml low sodium tomato juice
5 tablespoons tomato paste
Freshly grated Parmesan cheese for garnish
Basil, for garnish
Fresh crusty bread, to serve
Method
1. Preheat oven to 200C and line a large baking tray with baking paper.
2. Cut tip off garlic to expose bulb, and layer garlic, tomatoes, onion, celery, carrots and leeks on tray.
3. Brush with olive oil and sprinkle evenly with salt, and lightly with pepper.
4. Add parsley, oregano, thyme, rosemary, and basil and bake for 30-45 minutes or until veggies are tender and well roasted.
5. Place the lot into a large stock pot and heat over medium heat. Add tomato juice, bay leaves, chilli flakes, and tomato paste and simmer for 15 minutes. Remove bay leaves and puree soup until smooth using a stick blender.
6. Serve hot, with parmesan and crusty bread.