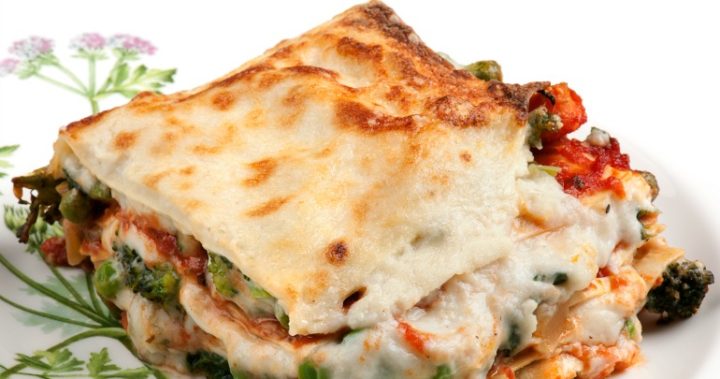 Lasagne is a delicious dish, but it sometimes can be hard to find an equally good vegetarian option.
For a healthy dinner the whole family will love, this tasty vegetarian lasagne is a must-try! This fantastic recipe includes pumpkin, zucchini, eggplant, mushrooms, tomatoes and spinach, all thrown in together to create a nourishing flavour.
Serve on its own or paired with a fresh garden salad with simple lemon and olive oil dressing.
Ingredients
800g butternut pumpkin, peeled, cut into 1cm-thick slices
1 1/2 tbsp olive oil
1 medium brown onion, finely chopped
2 medium zucchini, halved, sliced
1 medium eggplant, chopped
200g button mushrooms, thickly sliced
400g can diced tomatoes
80g baby spinach
30g butter
2 tbsp plain flour
2 cups milk
1 cup grated mozzarella cheese
125g dried lasagne sheets
Method
Preheat oven to 180°C. Line baking tray with baking paper.
Arrange pumpkin, in single layer, on tray.
Drizzle with two teaspoons oil and bake for 20 minutes. Set aside.
Heat remaining oil in frying pan over medium heat.
Add onion, garlic, capsicum, zucchini, eggplant and mushroom.
Cook, stirring, for 10 minutes.
Stir in tomato. Bring to boil and reduce heat to low.
Simmer for 10 minutes, then remove from heat.
Stir in spinach. Cover and set aside for two minutes. Season with salt and pepper.
Meanwhile, melt butter in saucepan over medium heat until foaming.
Add flour. Cook, stirring with wooden spoon, for one minute.
Gradually add milk, stirring to prevent lumps forming. Return pan to heat.
Stir in half the cheese (1/2 cup) and set aside.
Lightly grease a square baking dish.
Spoon half the vegetable mixture into dish and arrange half pumpkin over vegetable mixture.
Place half of lasagne sheets over pumpkin (breaking sheets to fit). Repeat layers.
Spoon sauce over top and sprinkle with remaining cheese.
Bake for 40 minutes or until golden.