Indulgent cheesy garlic scalloped potatoes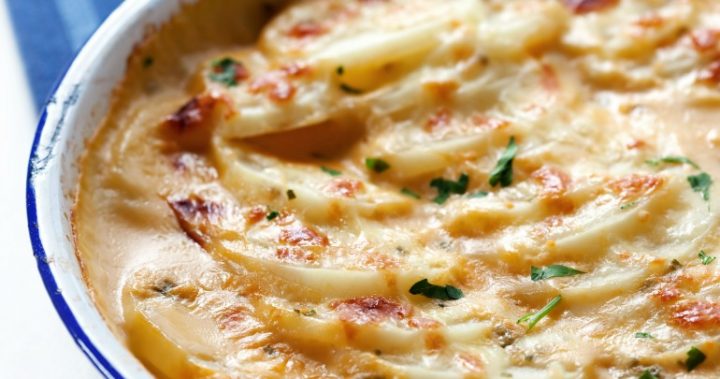 Who doesn't love potatoes?
This humble veggie can be so versatile, and makes its way into so many of our favourite dishes – and this delicious dish is no exception! These indulgent cheesy garlic scalloped potatoes make an excellent side dish, fitting in perfectly alongside a roast dinner, or perhaps a nice piece of fresh fish. Or, they are absolutely delicious on their own!
Give these a try as a tasty alternative to mashed or boiled potatoes, and your family, guests, and your tastebuds will thank you for it. Yum!
Ingredients
2kg potatoes, sliced 1/2 cm thick
2 cups onions, chopped small
6 cloves garlic, crushed
¼ cup butter
¼ cup plain flour
1 ½ cups vegetable broth
1 ½ cups cream
1 teaspoon salt
2 teaspoon pepper
2 teaspoons cajun seasoning
200g sour cream
3 cups cheddar cheese, grated and divided
1 cup freshly grated Parmesan cheese
Method
Preheat oven to 200C and spray a large baking / casserole dish with a non stick cooking spray, and set aside.
In a large frying pan, melt butter over low heat then add onions and garlic. Cook for 4-5 minutes, until tender. Sprinkle flour over mixture, and cook, stirring, for a further 2 minutes.
Pour vegetable stock into pan and stir, adding salt and pepper, seasoning and cream. Cook, stirring, until thickened, then remove from heat and add 2 cups of cheddar cheese. Stir through.
Layer ⅓ of the potato slices in baking dish, then top with ⅓ of the sour cream and ⅓ of the cheese sauce, then 1/3 of the parmesan and remaining cheddar.
Repeat the process with the remaining two thirds, then cover with foil and bake for 1 1/2 – 2 hours. For the last 20 minutes, remove the foil and bake uncovered until the cheese browns.