Baked chipotle, sweet potato and zucchini fritters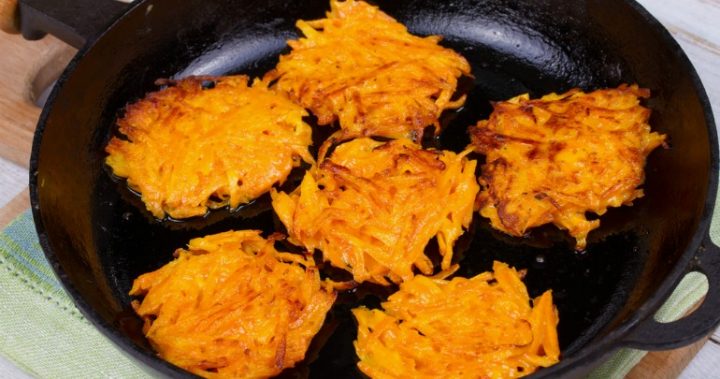 Fritters are a great way to use up leftover veggies, and the chipotle, sweet potato and zucchini fritters are just delicious.
With the tasty chipotle flavour, they're just a little bit different to any fritters you might have tried before, and the sweetness of the potato contrasts so nicely. The best part about them is that they're baked, not fried, so they're extra healthy! As well as getting a good fill of veggies, you also manage to avoid the oil that they normally come with, so it's a win all around.
Yum! Will you be trying these for dinner tonight?
Ingredients
¼ cup unsalted butter, melted
1 large egg
2 teaspoons chipotle seasoning
½ teaspoon salt, or to taste
½ teaspoon black pepper, or to taste
2 tablespoons plain flour
3 cups coarsely grated sweet potato
2 cups coarsely grated zucchini (drained with paper towel)
Method
Preheat oven to 190C/375F and line two baking trays with baking paper.
Place the melted butter in a large bowl and add egg and beat with a fork to combine. Add chipotle seasoning, flour, and salt and pepper and stir to combine.
Add sweet potato and zucchini and toss to combine. Place around 1/2 cup of mixture into mounds on baking tray, and gently shape into fritters. Bake fritters for 20-25 minutes, before carefully flipping them over and baking for another 15 minutes or until golden-brown.
Allow to cool for 10 minutes before serving.