Deliciously gooey lemon coconut butter slice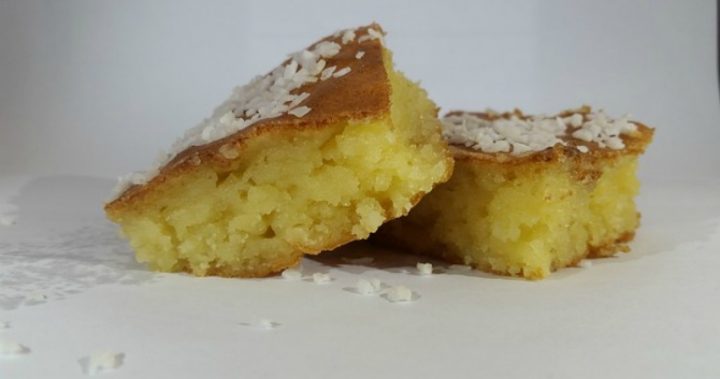 Sweet with a touch of zest, this gooey and buttery recipe is definitely worth a try.
This incredible recipe is boasts a crispy crust that's filled with a soft lemony centre and sprinkled with a sweet coconut crumble.
The filling includes cream cheese, coconut and lemon, all combined together to make an amazing flavour, which will no doubt have you going back for seconds.
With festivities almost upon us, this recipe is the perfect lunch or dinner party companion.
Ingredients
Crust
2 cups all-purpose flour
1 1/2 cups white sugar
1/2 cup shortening
1 cup milk
3 1/2 tsp baking powder
1 tsp salt
1 tsp vanilla extract
3 eggs
Filling
230g cream cheese, softened
2 eggs, room temperature
1 tsp vanilla extract
1/4 tsp coconut extract
1/2 cup lemon juice
2 cups powdered sugar
110g unsalted butter, melted
Topping
1/2 cup sweetened coconut
1/2 cup brown sugar
1/2 cup sugar
4 tbsp butter, melted
3/4 cup flour
Method
Preheat oven to 180°C and spray a 9x13cm rectangular pan with baking spray.
For the crust, in a small bowl mix together the flour, baking powder and salt and set aside.
In a large bowl, beat sugar and shortening until light and fluffy. Add eggs one at a time, beating thoroughly after each.
Add flour mixture with milk, beat to combine, then stir in vanilla.
Once well mixed pat into bottom of pan and set aside.
For the filling, in a large bowl beat cream cheese until smooth then beat in eggs one at a time.
Add vanilla and coconut extract, lemon juice, powdered sugar, and melted butter. Pour the filling on top of crust.
For the topping, mix in brown and white sugar, sweetened coconut, and stir in the butter.
Add flour and stir until crumbly. Set crumbs for 10-15 minutes.
Sprinkle crumbs on top of filling and bake in oven for 35-40 minutes.
Feel free to sprinkle with an extra layer of coconut!