Delicious spinach and feta rolled meatloaf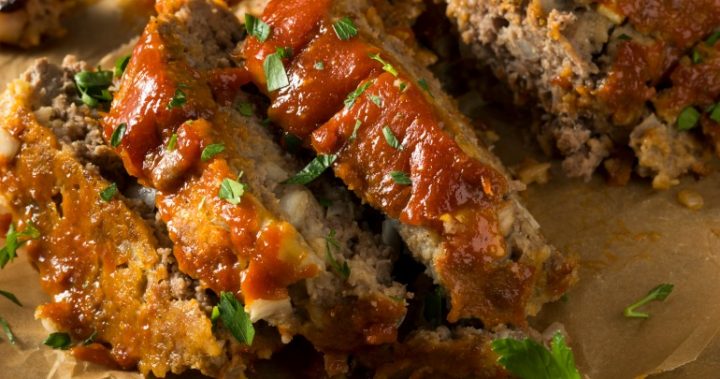 Start a new family tradition with this mouthwatering recipe.
A classic with a twist, this easy-to-make pork and veal meatloaf will definitely be a hit these holidays.
This delicious recipe adds a Mediterranean kick, complete with fresh feta, spices and olive oil.
Great on its own, this tasty meatloaf also works well with a side of buttery mash and charred greens. It's perfect for a family meal or as a simple dinner to heat up in the microwave a few times throughout the week.
It's so tasty it's hard to resit!
Ingredients
2 tbsp extra virgin oil
1 leek, trimmed, thinly sliced
200g baby spinach
100g feta, crumbled
750g pork and veal mince
3 garlic cloves, crushed
3/4 tsp dried chilli flakes
3/4 cup dried breadcrumbs
1/4 cup milk
1 egg, lightly beaten
Method
Preheat oven to 220°C.
Line a 26cm x 32cm swiss roll pan with baking paper, extending paper 1cm above edges.
Line a baking tray with baking paper.
Heat half the oil in large frying pan over medium-high heat.
Add leek, cook, stirring for five minutes or until softened.
Add spinach, cook, stirring for two minutes or until wilted.
Transfer to bowl. Set aside to cool.
Once cooled, stir in feta.
Place mince, garlic, chilli, breadcrumbs, milk and egg in large bowl.
Season with salt and paper. Mix well to combine.
Press mince mixture into prepared swiss roll pan.
Top with spinach mixture, leaving a 5cm boarder on one short end.
Using the baking paper as a guide, roll up meatloaf from short end without boarder to enclose filling.
Remove baking paper and place meatloaf on prepared tray.
Bake for 40 to 45 minutes or until browned and cooked through.
Stand for ten minutes.
Feel free to serve with hot tomato chutney!