Delicious shepherd's pie with cheesy potato topping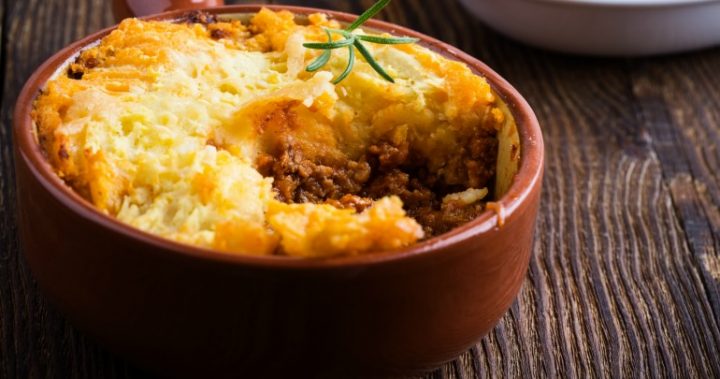 Shepherd's pie is one of those comfort dishes that never seems to get old. Not only is it easy and affordable, but the simple flavours and wholesome ingredients make it hard to go past when you're in the mood for a homely meal. This version is topped with a scrumptious mash with sour cream, butter and garlic adding plenty of flavour to every mouthful. It's topped with a hearty layer of cheese for that deliciously golden top, that not only looks good but tastes like a dream!
Since the recipe makes a large quantity , use any leftovers as jaffle filling the next day for a simple and tasty lunch!
Ingredients
Potato mash
2.3 kgs potatoes, peeled and chopped into 5 centimetre pieces
1/2 cup salted butter
1/2 cup sour cream
1/3 cup milk
1 tsp salt
1/2 tsp pepper
1/2 tsp seasoning salt
1/4 tsp garlic powder
1/4 tsp onion powder
Beef Mixture
4 tbsp salted butter
1 medium onion, chopped
4-5 medium carrots
1 1/2 cups frozen peas
680g minced beef
1 1/2 cups beef broth
1 tbsp cornstarch
1 1/2 tsp Worcestershire sauce
1 tsp vegetarian bouillon paste
1 1/2 tsp salt, or to taste
1/2 tsp pepper, or to taste
1 cup grated cheddar cheese
Method
Preheat your oven to 180°C
Add the chopped potatoes to a large stock pot full of water— making sure the water covers them.
Bring the potatoes to the boil and cover. Reduce to medium and boil for 20-25 minutes until the potatoes are cooked through.
Drain the potatoes and add them back into the pot with 1/2 cup butter. Mash the potato until smooth.
Add in the sour cream, milk, 1 teaspoon salt, 1/2 teaspoon pepper, seasoning salt, garlic powder, and onion powder—mix until combined and cover.
Melt 4 tablespoons butter over medium heat in a frying pan then add the onions and carrots.
Cook for 8 minutes, then add the minced beef and cook until browned. Mix in the frozen peas.
Mix the beef broth and cornstarch in a small bowl until combined and add this mixture to the meat. Also, add in the Worcestershire sauce.
Cook the mixture for 5 minutes until it boils and the sauce thickens. Reduce it until it has reaches a gravy-like consistency.
Add the salt and pepper and pour the mixture into a deep casserole dish.
Top the mixture with the mashed potatoes and add a layer of cheddar cheese.
Place the pie in the oven for 30 minutes until the cheese is melted.
Leave to cool down for 5 minutes and serve.
---
With Facebook removing news sites from your feeds we ask that you sign up for Starts at 60's emailers here. And to keep us on your wall, join some of our new Facebook groups and clubs:

News Junkies Club – Australia
News Junkies Club – USA

See news on the change and links to all our other clubs and groups here.