Super easy baked garlic potato slices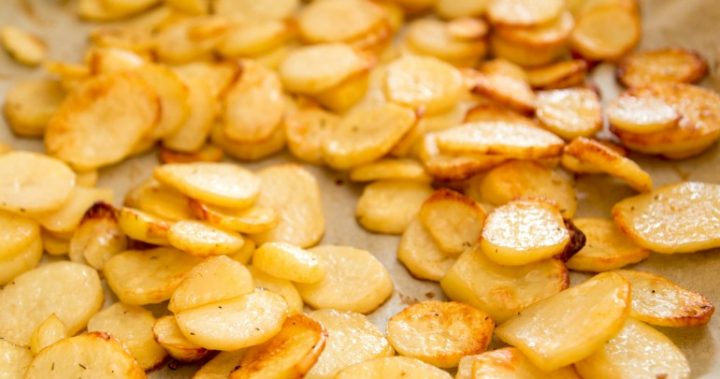 These tasty baked potato slices are delicious, and can be customised with your favourite herbs and spices to suit your personal tastes.
The thinner you slice the potatoes, the crispier they will be, so you can play around with this until you find the perfect thickness. Make sure you don't skip the step of rinsing the potato slices, as this removes the starch and prevents them becoming soggy when cooked.
They make an excellent side dish, starter, or snack, and are much healthier than fried chips or potato chips (crisps).
Serve them up with your favourite dressings or dips. Yum!
Ingredients
2-4 whole potatoes
Salt
Olive oil
Finely chopped garlic
Herbs and spices
Method
1. Preheat oven to 200C and line a baking tray with baking paper.
2. Slice potatoes into rounds – the thinner they are, the crispier they will end up.
3. Place the potatoes in a colander and rinse well with water to remove the starch. This will prevent them becoming soggy when baked. Dry with paper towel after rinsing.
4. Combine olive oil, salt, garlic, and herbs and spices of your choosing in a large bowl. Add potatoes and mix until slices are well coated.
5. Place slices on prepared oven tray and bake for 15-20 minutes, or until golden.
6. Serve hot, with your favourite dips or dressings.