Guilt-free breakfast pancakes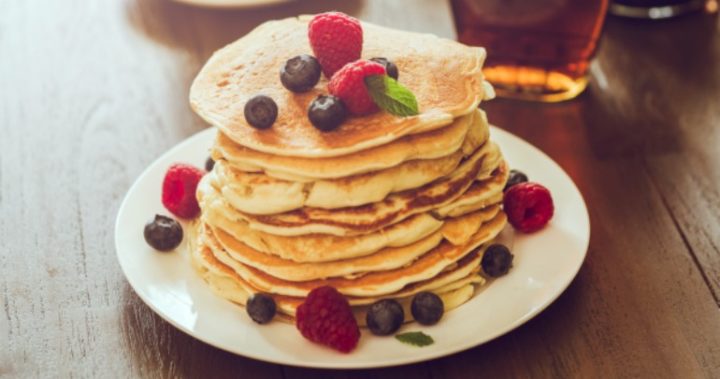 Pancakes are an indulgent option for brekkie, but this quick and easy recipe is guilt-free as it used mashed bananas to form the bulk of the batter.
We've recommended topping them with ricotta and berries here, but you can swap those toppings for anything that takes your fancy and experiment with different flavours.
Ingredients
1 medium banana, mashed
150g wholemeal plain flour
60g almond meal or hazelnut meal
1 teaspoon ground cinnamon
4 eggs
150ml milk kefir
1 tablespoon coconut oil
2 teaspoons baking powder
125g fresh ricotta, to serve (optional)
Mixed berries, to serve
Pure maple syrup, to serve
Method
1. Place the banana, flour, nut meal, cinnamon, eggs, kefir and 2 tsp oil in a blender or a food processor. Blend until smooth. Add the baking powder and process for a further 5-10 seconds, until mixed.
2. Heat a non-stick frying pan over medium-high heat. Add 1 tsp of the remaining oil. Pour enough batter into the pan and gently swirl to create a pancake about 12cm in diameter.
3. Cook for 1-2 minutes, until bubbles begin to form on the surface and the pancake is golden underneath. Carefully flip and cook for a further 1-2 minutes, until golden on both sides and cooked through. Transfer to a plate and cover loosely with foil to keep warm. Repeat with the remaining mixture until all the batter has been used.

4. Divide the pancakes among serving plates. Top each stack with 11 ⁄2 tbs ricotta, if you like. Scatter with the mixed berries and serve with a light drizzle of maple syrup.