Amazing one-pan crispy chicken and potatoes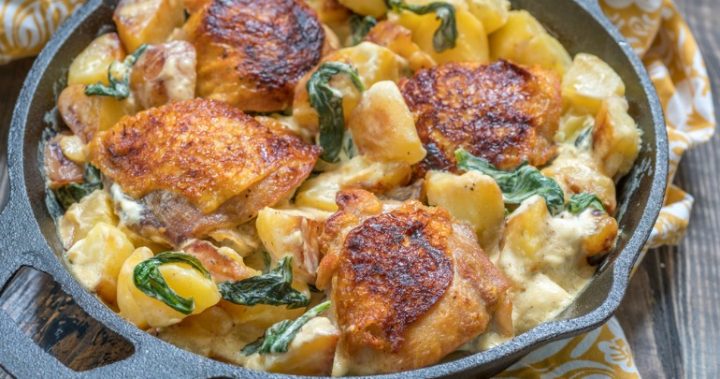 If you're looking for an easy yet delicious dinner to whip up this week, this one-pan chicken and potato wonder is perfect. Everything is thrown into the pan and cooked together in one go so you don't have to spend hours working over a hot stove. The mustard sauce here is the real kicker and adds an amazing depth of flavour to the dish. You can enjoy the cooked chicken and potatoes on their own or serve with a fresh salad or steamed greens.
Ingredients
4 skinless , bone-in chicken thighs
1 to 1-1/2 pounds small (about 1 to 1.5 inches in diameter) new potatoes , halved
1 tablespoon olive oil
Salt and fresh ground pepper to taste
1/3 cup brown mustard
1 tablespoon yellow mustard
1/4 cup maple syrup
Method
1. Preheat oven to 375F. Season chicken and potatoes with olive oil and salt and pepper; transfer to a non-stick pan or 12-inch skillet that is oven safe. Set aside.
2. Put mustards and maple syrup in a small bowl and whisk to combine.
3. Pour the mustard mixture over the chicken and potatoes; toss to coat.
4. Bake for 45-50 minutes, or until chicken is cooked through and potatoes are tender. Test the chicken is cooked by inserting a skewer into the middle. If juices run clear, you're ready to serve.