Karl Stefanovic in tears of laughter after baby shows she's NOT a fan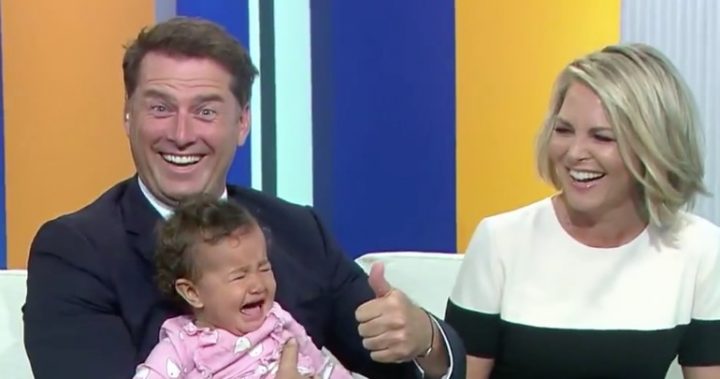 He may be one of Australia's most recognisable faces, but it's fair to say that Karl Stefanovic isn't to everyone's taste. Whether he's debating with the Australian prime minister or dividing viewers with his views on controversial topics, most people either love or hate the Today show host.
And one guest on Tuesday's episode, mades it pretty clear how she really felt. Reality TV stars Zoe Hendrix and Alex Garner appeared on the show with their adorable 14-month-old daughter Harper Rose. Little Harper was behaving as good as gold during her parents' interview, happily looking into the camera and playing with a toy car while her parents discussed their relationship and time on show Married At First Sight. The pair famously met on the show in 2015 and welcomed their first child in 2016.
The couple joked that they were in desperate need of a holiday, prompting Karl to get out of his seat and suggest that he would look after the bub. But as she was pulled away from her mother and onto the other side of the set with 'Uncle Karl', Harper burst into tears.
Who wants @KarlStefanovic to babysit their kids? ????‍ Don't miss @MarriedAU starting MONDAY 7.30pm on @Channel9! #9Today #MAFS pic.twitter.com/KnLc8nnxB8

— The Today Show (@TheTodayShow) January 22, 2018
Ad. Article continues below.
Karl couldn't help but laugh as Harper looked imploringly in the direction of co-host Georgie Gardner, looking as though she wanted nothing more than to be saved from the scary host. The longer Karl held onto her, the more tiny girl screamed – a scene that'll be embarrassingly familiar to anyone who has a knack for upsetting apparently peaceful babies.
Karl himself even began crying with laughter, as he pointed to the camera with a thumbs up. Zoe quickly rushed over to her screaming child and took her back to the other side of the set. Almost instantly, she stopped crying. "If you want me to look after your kids, you can contact me on …" Karl joked.
Sure enough, fans weren't quite sure what to make of Harper's reaction.
One viewer wrote: "I'm crying because he's [Karl] back … lol." Another said: "This little Bub has an amazing attachment with the mother. Awesome job mum!!! That's exactly how the little Bub should react." A third added: "This was funny. Most kids aren't good with strangers."
Some expressed their concern that the child was put in an uncomfortable situation in the first place, while others pointed out that it was all in good fun and that no harm was done.
Ad. Article continues below.
Has your child or grandchild ever done the same thing when handed to a well-meaning stranger? Are you one of those people who unintentionally tends to give babies a scare?
---
With Facebook removing news sites from your feeds we ask that you sign up for Starts at 60's emailers here. And to keep us on your wall, join some of our new Facebook groups and clubs:

News Junkies Club – Australia
News Junkies Club – USA 

See news on the change and links to all our other clubs and groups here.