Cher and Meryl Streep saved a woman from a violent attack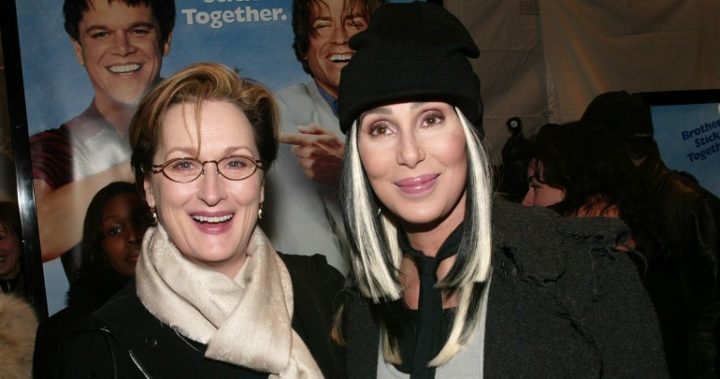 Cher is set to perform at the 40th Sydney Gay and Lesbian Mardi Gras tonight, but that hasn't stopped the pop star from revealing stories from her past.
The 71-year-old appeared on the Kyle and Jackie O Show on Kiis FM to talk about her upcoming performance in Australia, but talk quickly turned to her friendship with Meryl Streep. The pair appeared alongside each other in the 1983 movie Silkworm and have remained close friends ever since.
Speaking on the radio show, Cher suggested that she and Meryl had actually saved a life together. "We saved someone's life together once," she explained to host Jackie O. She told the story in a very light-hearted way, as if her actions weren't a big deal.
"We were going to get ice cream, we were in Little Italy and we were walking down the street," she said. "There's a big square where the ice cream place is and all of a sudden we heard screaming and we walked around the corner and this gigantic man was ripping this girl's clothes off.
Ad. Article continues below.
"Meryl started running, I started running and the guy, I don't know why he got scared because we were just two girls and he was this huge man."
The 'If I Could Turn Back Time' songstress said that the attacker quickly turned his anger towards her and her actress buddy. "And he started running towards us and I thought, 'Oh, we're going to get killed. Meryl's going to get us killed.'
"We kind of separated, I don't know why, and he ran between us and we saved the girl."
Jackie O couldn't believe the story, suggesting that the girl "would have died" from shock when she realised that she was saved by two of the biggest stars in the world. Ever so modest, Cher played down her superstardom. "Well I don't know if she would have died but she was going through a really terrible time," she said.
"Probably the worst time of her life and she was a singing waitress so when she realised, she started screaming again." The incident happened around 25 years ago, although it's probably something the waitress has never forgotten. 
Ad. Article continues below.
Cher touched down in Sydney earlier this week and has wasted no time checking out the iconic landmarks. She explained to her 3.56 million Twitter followers that she visited the picturesque Bondi Beach and checked out some of the fabulous homes on the hill. It wasn't all smooth-sailing, with a series of emojis in her message suggesting she ran into car troubles and had problems with her mobile phone.
Went 2beaches 2day OMG????????
Bondi,Molly Mook…up and around all the beautiful View homes on the hills,Centennial Park…On & On.Great Architecture,SO DIFFERENT FROM HOME‼️
Fabulous Rainbow ???? Flag On Bondi Pavilion. Sparkling.
Would have been Totaling Perfect Except 4????&????=☹️

— Cher (@cher) March 1, 2018
She's set to reunite with Meryl Streep later this year in the highly anticipated sequel to Mama Mia.
'They called and said 'you're doing this film' ' @Cher on #MammaMia2 pic.twitter.com/VgqFIJhG4b

— Kyle and Jackie O (@kyleandjackieo) March 1, 2018
What do you think? Are you surprised that Cher and Meryl saved someone's life? Are you a fan of the pair?