Adorable kids react to Donald Trump as president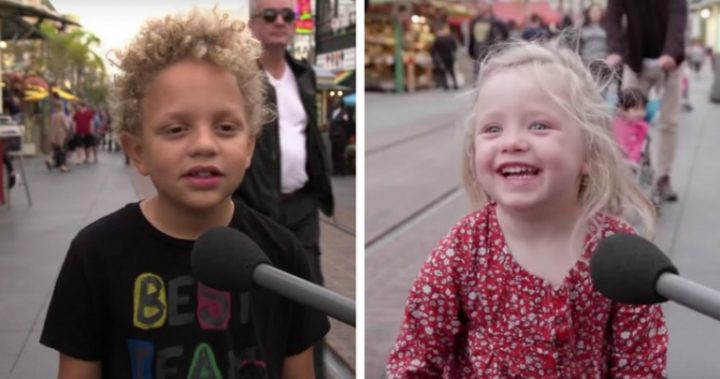 There's a lot of news in the media about Donald Trump and how he's running America.
It's been a whole year since he actually became president and it's fair to say that a lot of people both in the United States and around the world have an opinion on how he's doing things.
Some people remain avid fans of the former reality TV host, while others don't agree with his views and his way of leadership. His approval rating is currently at around 37 per cent.
TV host Jimmy Kimmel decided to take to the streets of Los Angeles to ask small children what they thought of America's 45th president as part of a segment for the Jimmy Kimmel Live show. They say that children have no filter and these little kids certainly didn't hold back when it came to their views on the 71-year-old.
Ad. Article continues below.
The first little boy stopped believed that Trump was doing "great" and said that Trump "saved the world from harmony". Jimmy's audience could be heard laughing at the little boy's mix up with words. The next girl didn't think Trump did a good job during his first year in office.
"He wants to put a wall over Mexico," the little girl said. "And I like, love going to Mexico." Another boy said that "small fingers and orange face" were the first thing that came to mind when he thought of the former The Apprentice star, while another child believed Trump should stop threatening North Korea because he didn't want to "get nuked".
Another girl, dressed in a Frozen outfit, didn't like the way Trump treated people, while another boy was a massive fan of Trump's hair, describing it as "kinda cool". Having said that, the little boy did say that the president's hair wasn't as good as his own.
Later in the video, a child suggested that Trump should be named 'poop face', while another believed 'cheeto' would be more appropriate, given his tanned skin.
Some of the children also gave their best Donald Trump impressions, much to the delight of Jimmy Kimmel's studio audience. The clip comes after the US government shut down in spectacular fashion when senators couldn't agree on a deal when it came to funding the government.
Ad. Article continues below.
In news that isn't great for Trump, it all unfolded on the one-year anniversary of him becoming president. It is estimated that millions of US citizens will be impacted by the shut down, with health insurance, pay and even immigration programs set to be frozen until the issue is resolved.
It's not the first time the US government has shut down in recent years. In 2013, a shutdown lasted for 16 days, while services such as air traffic control and disaster relief should continue.
What do you think of the video? Are you a fan of Donald Trump?
---
With Facebook removing news sites from your feeds we ask that you sign up for Starts at 60's emailers here. And to keep us on your wall, join some of our new Facebook groups and clubs:

News Junkies Club – Australia
News Junkies Club – USA 

See news on the change and links to all our other clubs and groups here.