Betty White assisted onto stage, gets standing ovation for award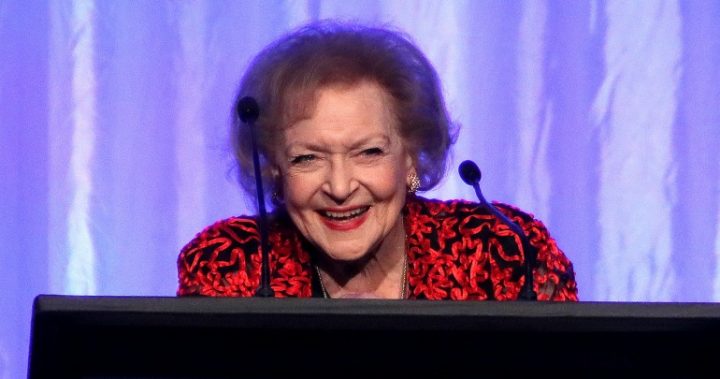 Whenever you hear the name Betty White you know just who that is, and you can't help but smile.
The American actress is known for many roles;  like The Mary Tyler Moore Show in the 1970s, through to the classic role of Rose in The Golden Girls in the 1980s and 90s, not to mention more recent times with Hot in Cleveland and more.
The 95 year old has certainly got her fans, and many of them are her peers. She had a standing ovation as she was honoured by the Paley Center in Los Angeles on Thursday, for her decades of television. The event was the Paley Honors in Hollywood: A Gala Celebrating Women in Television, held at the Beverly Wilshire Four Seasons Hotel in Beverly Hills.
White looked energised, in a bright red jacket over a black pants and top. While she needed assistance in walking on stage she was certainly acting spritely while she was up there.
Ad. Article continues below.
"Thank you for spoiling me rotten for so many years," she told the crowd. "I truly appreciate it."
"It's just the best business to be in, and thank you for helping me stay there."
The event was the first of its kind to celebrate eight decades of groundbreaking accomplishments of women across a variety of genres including drama, comedy, music, variety, news, talk, and sports.
Ahead of the event White said she was thrilled to be honoured by the Paley Center.
Ad. Article continues below.
"To be acknowledged for working in a business I love for as long as I have is truly a privilege. I'm proud to share this evening with these amazing and talented women."
What do you remember Betty White for the most?