Amused Roger Federer quizzed on 'ageless looks' in bizarre interview
Roger Federer has answered numerous probing questions throughout his successful career – but it's safe to say, none have been as bizarre as those he faced on Tuesday night.
The sportsman struggled to contain his laughter as he was quizzed about everything from his "ageless" appearance to his "gazelle-like" playing by Anchorman actor Will Ferrell, 50.
The star slipped into his famous Ron Burgundy character and stepped on to court following Federer's win over Aljaz Bedene, much to the delight of the crowd.
"In the immortal words of Ron Burgundy, it's great to be here with two tennis legends — Roger Federer and John McIntosh," Ferrell began, according to news.com.au. He added: "Roger, tonight you seemed like a gazelle out there on the court. Would you describe your game as a silky gazelle?"
Ad. Article continues below.
A baffled Federer responded: "Maybe, maybe not. Don't they get eaten at the end?" Moving swiftly on however, Ferrell then turned to the tennis star's looks.
"Quick question Roger, you're 36-years-old, you seem ageless, are you a witch or a vampire?" He asked. But Federer simply responded that he didn't like either.
From there, the awkward chat covered everything from wombat meat, (which Federer denied eating), through to his name and age.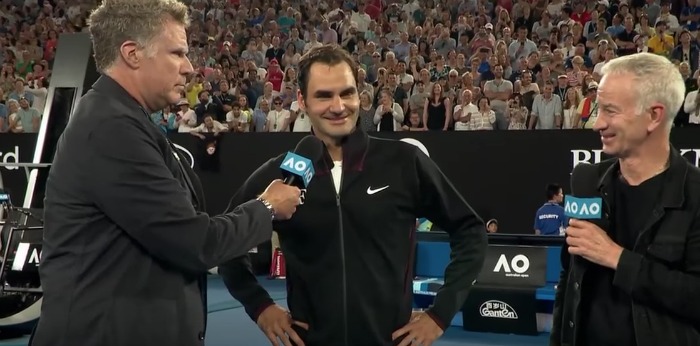 Speaking afterwards, Federer admitted he had felt slightly "scared" during the "intense" chat. However, he said it was fun throughout.
Ad. Article continues below.
Last year, tennis fans were sent into a flap when Federer debuted a new hairstyle. His thick, curly locks have been a regular fixture on the tennis court since he entered the international arena.
Read more: Fans in a flap over Roger Federer's new look
When he was younger, he used to wear his longhair tied back in a pony tail, and in recent years he's used a sweat band to keep the thick mop off his forehead during matches.
However, in June last year he showed up at the Mercedes Cup in Stuttgart with his shortest hair cut in years and fans went into meltdown claiming he has jinxed himself. Luckily, it didn't appear to be the case.
The Swiss professional tennis player has won 19 Grand Slam singles titles, the most in history for a male tennis player, and held the world number one spot in the ATP rankings for a record total of 302 weeks.
Ad. Article continues below.
What did you think of the chat? What do you think Federer's secret to his looks is?
With Facebook removing news sites from your feeds we ask that you sign up for Starts at 60's emailers here. And to keep us on your wall, join some of our new Facebook groups and clubs:

News Junkies Club – Australia
News Junkies Club – USA 

See news on the change and links to all our other clubs and groups here.