The incredibly heart-warming and inspiring tale of Wonder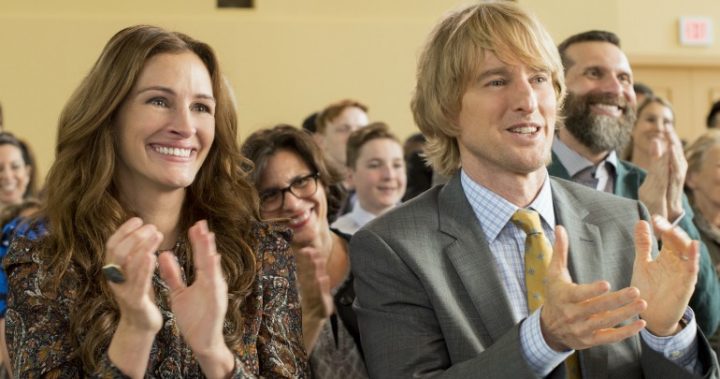 Auggie (Jacob Tremblay — The Room) was born with Treacher Collins Syndrome, a condition affecting the development of bones and other tissues of the face, which resulted in deformities requiring many operations for him to be able to speak, see, and hear, among other things. He is the heart of Wonder.
His mother Isabel (Julia Roberts) home schools him — due to all the surgeries — but the family has decided that now he's 10, Auggie is ready to join the outside world and start middle school at fifth grade.
Kids can be cruel, especially to those who are different, and Auggie is taunted.
Classmates are afraid of touching him, thinking he might be contagious; they make fun of his appearance and generally bully him. Because of his facial abnormalities Auggie is most looking forward to Halloween. Auggie wants to become an astronaut, so he wears a helmet to cover his face adn for the first time he feels his is just 'one of the kids'. He wears the astronaut's helmet all the time, a bit like a security blanket.
Auggie's story isn't the only one being told. His teenage sister Via, his parents and all the school kids he encounters relate their experiences and show how Auggie's life impacts on the so-called 'normal' people around him. It is an interesting perspective of the film.
Ad. Article continues below.
I'm not a fan of actor Owen Wilson, who in Wonder plays Nate Pulman, Auggie's dad, however, he gave a fine likeable performance. Mandy Patinkin is the worldly all-knowing, all-caring headmaster who not only stands up for Auggie and gives him support when needed but is the ethical centre of the movie, creating a line between senseless harassment and fighting for what's right.
The events for Auggie, a physically deformed boy from birth, pass too easily and with few complications. I thought there was a missed opportunity to show more of this.
At times Wonder is quite funny too — Auggie having a chat with one of his classmates: "Have you ever thought of plastic surgery?" "Dude! This IS after plastic surgery! It takes a lot of work to look this good."
It's a sentimental heart-warmer, it's predictable but it's also well-acted.
There are a few issues with the film; it slows down too much in the second act, but that is resolved with a good, even if it is clichéd, finish.
Wonder is a good film for the entire family.
ROK'S RATING: 3.5 glasses of bubbly