Sting reopens Paris' Bataclan with powerful performance one year after deadly attacks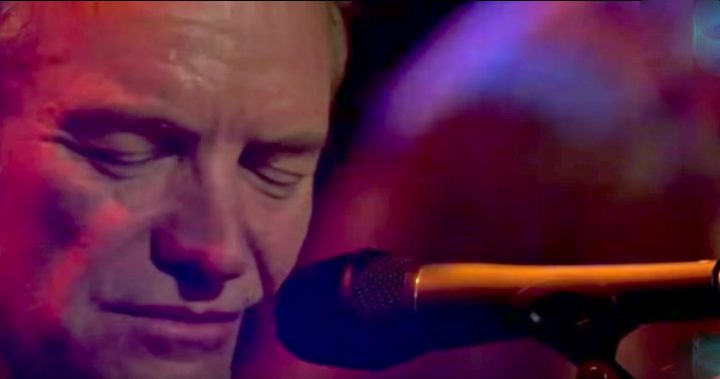 A day shy of the anniversary of the Paris attacks, Sting reopens Paris' Bataclan theater and transforms The Bataclan back into what it always was – a concert venue. He started with a minute of silence for the 90 killed and dedicated the song "50,000" to David Bowie and Prince, among others. Unlike other mega stars who have been caught coming to their own concert late, Sting who is one of music's biggest legends, came on stage promptly at 9 p.m. He began by honouring the victims that were killed when terrorists stormed that same theatre last November 13.
"We've got two important things to do tonight," he said in French. "First, to remember and honour those who lost their lives in the attacks a year ago and to celebrate the life and the music of this historic venue."
The British superstar then called for the minute of silence which proved to be an existential exhale for the tense crowd.
"We shall not forget them," he said before launching into 1988's "Fragile," who's lyrics read: "Nothing comes from violence and nothing ever could." Before launching into "Message In a Bottle."
Ad. Article continues below.
Sting transforms The Bataclan back into what it always was. A concert venue. pic.twitter.com/sps9pdsSEx

— Nick Garnett (@NickGarnettBBC) November 12, 2016
If you've been noticing the lost of many great musicians this year, you are not alone. Sting listed all musical legends the world has lost this year: "David Bowie, Prince, Glenn Frey, Lemmy…" he said before the crowd shouted "Leonard Cohen!"
"And Leonard," he added. "This is for them." He dedicate "Fifty Thousand" from his new album 57th & 9th to the late musicians.
Sting surprised many by saying an Arabic word "Inshallah" but explained it is a "word of hope," however, noting the current migrant crisis that is plaguing Europe.
Ad. Article continues below.
"And now for rock 'n' roll," he said, as he launched into "Petrol Head."
The star commanded the stage in slim jeans and a tight grey T-shirt. Despite the many signs reminding the crowd of the ban on film and photos, much of the audience held up phones throughout the show.
Watch Sting's Bataclan performance here…
What do you think of Sting's performance?