My Fair Lady: a treat for theatre lovers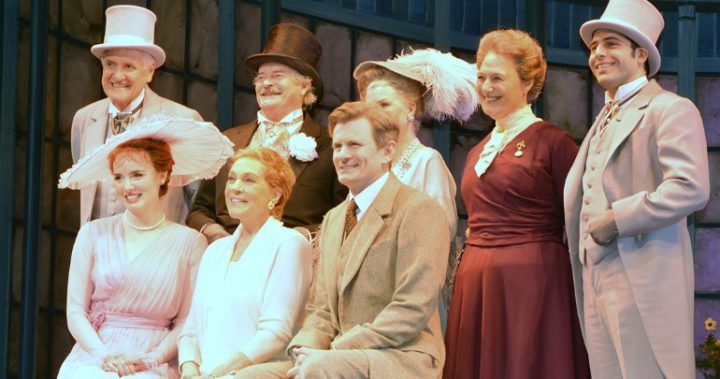 I had high expectations before I even walked in the door to watch Lerner and Loewe's My Fair Lady. After all, this live performance was directed by a legend in the entertainment industry, Julie Andrews. Stepping in to the foyer of Brisbane's Lyric Theatre at QPAC, I must confess to being a bit excited that I was even in the same room that Julie Andrews had been in only weeks before.
I was not disappointed.
There is something about live theatre: the music, the emotion, the camaraderie, even between the cast and the audience. I can see why the stars love it so much. From the first haunting sounds of the orchestra, through to the first vision of the sets, I was enthralled.
If you are looking for a modern interpretation you will be disappointed.
Watch: Julie Andrews shows why she's still a fair lady. 
Ad. Article continues below.
The 60th anniversary production not only follows the traditions of the early productions but it is a complete recreation from the original designs. For this very reason the stage sets and costuming alone are worth seeing.
If you have never heard of Anna O'Byrne before, you should. To say she was stunning in the role of Eliza Doolittle is an understatement. She had tough shoes to fill, taking on the role made famous by Julie Andrews, but she made it her own. I didn't even realise it was her at the beginning, in her street clothing. Her transformation from guttersnipe to high society was fun to watch.
Well known to Australians for his Downton Abbey role, Charles Edwards played a wonderful Henry Higgins. Witty all the way, a highlight for me was his rendition of A Hymn to Her with the lyrics, "Why can't a woman be like me?"
A popular performer, Reg Livermore can only be described as a loveable larrikin in his energetic portrayal of Alfred P. Doolittle. You might recognise Robyn Nevin for her role on Upper Middle Bogan but her performance as Mrs Higgins was also memorable.
Watch: Reg Livermore 'out on a bender' during rehearsals for My Fair Lady. 
Ad. Article continues below.
When it comes to voices you can't beat Mark Vincent as Freddie. While he has a smaller role in the production his solo 'On The Street Where You Live' while waiting for Eliza was goosebump material.
Characters aside, choreography and stage lighting truly impresses. They look warm and inviting, with a lot of fun touches, including a puff of smoke from the exhaust of the vintage car.
The dance scenes are busy with lots going on at once, but it really made you feel like you could be part of the fun. What I didn't expect was how funny it was. It was truly laugh out loud humour all the way.
It's a long production, so eat first and dress comfortably. Then sit back and enjoy the show. Just be prepared to be humming some of the tunes for days to come.
It's not too late to get your tickets for the Brisbane season. After that, it moves on to Melbourne from May 16 before returning to Sydney in August.
Details are available at myfairladymusical.com.au.