Disney character to come out as gay this week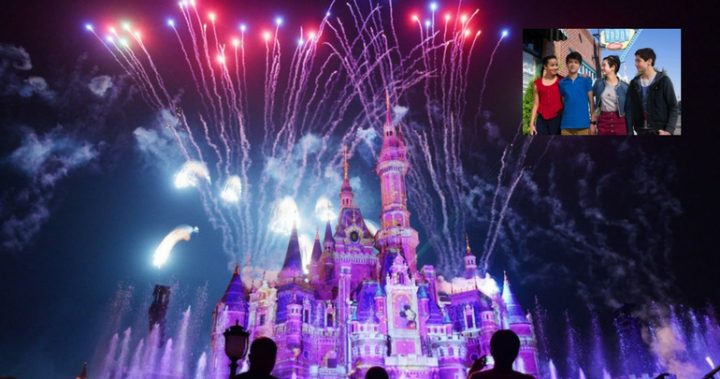 It's always been said that Disney's youth content is gauge by which you can see where societal norms are at. And this week they are going to set a new benchmark, with a key character in their worldwide tween TV series, Andy Mack, realising he is gay and coming out to his friends. 
To many adults, this show is not well known, but the show is significant in the lives of tweens. And the move is rousing strong feedback online. 
It is the Disney channel's first portrayal of a person coming out and it comes at a time when the world is grappling with it publicly and seeing significant social sentiment shift.
The character who will come out is Cyrus Goodman, a 13-year-old boy, played by 15-year-old Joshua Rush.  He will begin his journey and discovery in this Friday's second season one-hour premiere episode.
Disney Channel have released a statement saying, "Andi Mack is a story about 'tweens' figuring out who they are, (Creator) Terri Minsky, the cast and everyone involved in the show takes great care in ensuring that it's appropriate for all audiences and sends a powerful message about inclusion and respect for humanity."
Ad. Article continues below.
"Disney remains committed to continuing to create characters that are accessible and relatable to all children."
It is said in other media reports that Disney Channel consulted with child development experts and was screened to organizations including GLAAD, PFLAG, The National Campaign to Prevent Teen and Unplanned Pregnancy, and Common Sense Media, to ensure the story was age-appropriate and respectful.
How do you feel about Disney addressing the discovery of homosexuality in 13 year old boys on a popular show? 
————–
Ad. Article continues below.
The Disney statement details the way the program will address the series. 
"The coming-of-age series, starring Peyton Elizabeth Lee as the 13-year-old title character, premiered in March, becoming the top series of the year among girls (median age is 10) and #1 in its time period among all children ages six-14. It holds the top series spot on Disney Channel VOD, Disney Channel's DisneyNOW app and on Disney Channel UK.
The series, launching on Disney Channels around the world through mid-2018, was created by executive producer Minsky (Lizzie McGuire), and follows Andi as she comes to terms with news that Bex, the girl she thought was her older sister, is actually her mother.
With a realism not always evident on tween-focused programs, Andi Mack follows Andi, her family, and her two best friends – Cyrus Goodman and Buffy Driscoll (Sofia Wylie) – as they navigate their lives.
The new season finds Andi hoping that her parents Bex (Lilan Bowden) and Bowie (Trent Garrett) will marry, while she also attempts to hash out her feelings for longtime crush Jonah Beck (Asher Angel).
But it's another storyline that's breaking Disney Channel ground: Cyrus begins to realize that he too has feelings for Jonah, a development that begins what a source describes as a journey to self-acceptance."
In the season premiere, Cyrus confides his feelings to a supportive Buffy, a scene intended to provide positive role models for children – and adults – watching.
Subsequent episodes will follow Cyrus' ongoing story, which will include wrestling with how to tell his new girlfriend Iris.
---
This is a big move for the entertainment company, and another stage in the way they have used their characters to connect relevantly with the younger generations.  The most vivid demonstration of their previous moves have been in the Disney Princesses evolution over decades from meek damsels to strong opinionated leaders. 
The first princesses, Snow White, Cinderella and Aurora were quiet, classy, graceful and romantic daydreamers; they play more of a "damsel in distress" role and suffer from the actions caused by others. They hold an inner strength through compassion, love, and kindness. 
In what is called the Disney Renaissance in the 90s, which started with The Little Mermaid in 1989 and ended in 2000, the heroines in Disney feature films became more active than reactive and included Ariel, Belle, Jasmine, Pocahontas and Mulan. These women were strong-willed, adventurous, feisty, cunning and determined. They were less interested in finding love and more interested in finding adventure and freedom. The Disney movement was seen to represent the era of women strongly questioning their need to sit quietly in society. 
Ad. Article continues below.
The more recent Princesses were created within the past decade and are more modern. Tiana from The Princess and the Frog is a young woman who doesn't rely on magic and knows that it takes hard work to reach one's goals; Rapunzel from Tangled, however, is more idealistic and isn't afraid to go after what she wants.