Don McLean: As a pretty boy, I fought off amorous women, and men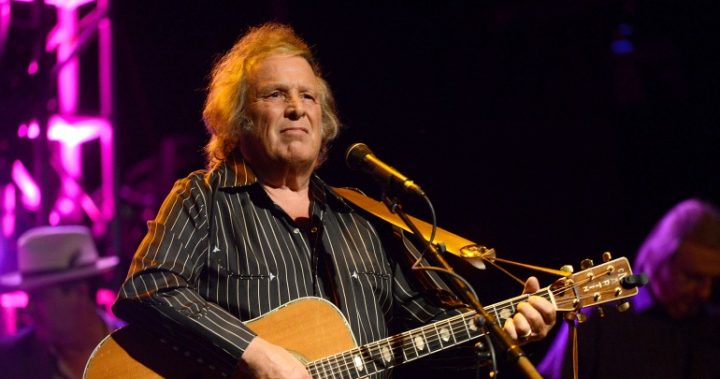 Don McLean achieved world-wide fame in his early twenties but it wasn't an easy road to the top. And that's given the 72-year-old an unusually measured view of the sex scandals currently engulfing the entertainment industry.
Speaking to Starts at 60, the father-of-two says he strongly supports women speaking out about inappropriate behaviour, insisting no-one should feel uncomfortable at work. But he also says that ganging up on someone accused of inappropriate behaviour is too much like the witch hunts of centuries ago.
"I think you need to have a court situation and a conviction on something, not just a bunch of people saying things about somebody," the legendary singer says. "I don't think that's Christian and I don't think that's American. It's a bit medieval in my opinion, that's the only word that comes to mind."
McLean also reckons that there are levels of inappropriate behaviour – a point likely to infuriate some women's rights campaigners, but be welcomed by others who've argued that the #metoo movement has gone too far. While no unwanted attention is acceptable, some cases are a lot more serious than others and they shouldn't be "lumped together", he says.
But sexual harassment and assault is hardly a new problem for the entertainment industry, the 'American Pie' singer says, recalling that he received plenty of unwanted advances himself when he began making music, from both men and women. 
Ad. Article continues below.
"I've had very aggressive women come after me throughout my life. I had men also come on to me who were in positions of power in some place or other," McLean remembers. "I was a pretty boy, and I was young, but I just said 'you're not doing that'. It's really easy to stop, you just don't go there."
Read more: Bye bye, Miss American Pie
McLean also says he was careful never to put himself in any situation he was uncomfortable with, even when it could have been helpful to his career.
"I can tell you for sure that there was a situation I was in that would have been very good for me, and I just turned and walked away from it," he says, adding, "You have to pay a price for how you feel about yourself. You can't just do anything you want, and if it doesn't work out, complain about it."
Of course, the hit-maker has had a 50-plus year career from which to draw his views. And he's still going strong, with just weeks to go before he unveils his latest album, Botanical Gardens, and continues another world tour, while some of his most prized possessions go on show at the Country Music Hall of Fame in Nashville for its long-running 'Sing Me Back Home' exhibition.
Ad. Article continues below.
For more information about the Country Music Hall of Fame and Museum, visit the official website here.
In an interview with Starts at 60, McLean was happy to provide a rare glimpse into his life in the limelight, sharing everything from the inspirations behind his songs 'American Pie' and 'Vincent' to his feelings about becoming a granddad and the secrets to his ageless performances. Look out for more from our interview with the hit singer and songwriter on Friday.
Do you agree with Don McLean that there should be a conviction before sexual assault allegations are made so public? 
With Facebook removing news sites from your feeds we ask that you sign up for Starts at 60's emailers here. And to keep us on your wall, join some of our new Facebook groups and clubs:

News Junkies Club – Australia
News Junkies Club – USA 

See news on the change and links to all our other clubs and groups here.