Incredible 12-year-old Irish busker moves Ellen with amazing talent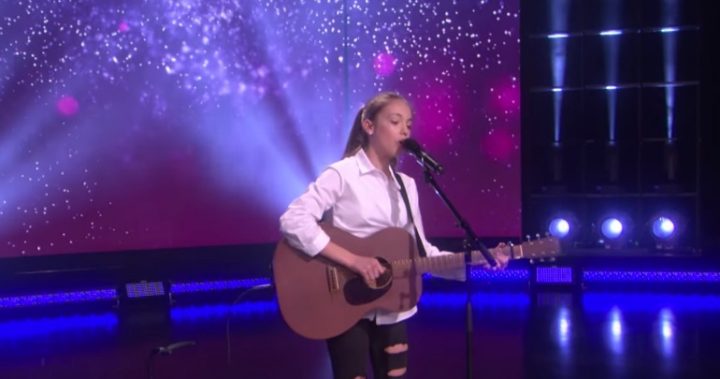 Every now and then a kid comes along with a voice that has the potential to inspire a generation. The beauty of technology these days is that singers and musicians have a platform to broadcast their talent to millions around the world.
Allie Sherlock, a 12-year-old from Dublin, Ireland, couldn't believe her luck when one of her clips gained attention from Ellen DeGeneres, the talk show host with billions of fans around the world
From the age of nine, Allie has been taking to the streets of her hometown to offer busy shoppers in the city centre a chance to escape their troubles and be soothed by her incredible voice.
In June last year, she uploaded a clip of herself singing an Ed Sheeran song to small crowd. The clip quick went viral and was viewed over 5.1 million times in a matter of months. Fans couldn't get enough of Allie's performance. One person wrote: "Wow I just cry to most of the songs you sing because they're just incredible."
Ad. Article continues below.
Another said: "This is so incredible, she's made this song ten times better and I didn't even think that was possible." A third added: "Definitely the next big thing."
It didn't take long for Ellen to come knocking and offer the youngster a chance to debut her music in America on her show.
Deciding to take Ellen up on her offer, Allie and her family flew to California where she performed a haunting rendition of an Adele classic. Ellen, who was once a judge on American Idol and has her own music label, said she was overwhelmed by Allie's talent.
"You have an incredible voice," she told the singer. " I think you've been told that many, many times. But people are saying you're the next Adele."
Allie explained how she started singing and that she perfected her guitar playing just a few months before realising she could sing. "I was always the kid who was going around the house singing and my dad was always like, 'turn it down a notch,'" she explained to Ellen.
Ad. Article continues below.
She then revealed that she begged her father to let her take her talents to the streets, something he wasn't entirely thrilled about. Ellen questioned how it made her feel when people ignored her songs. "I don't mind," she said. "Because it's so good when they stop, but it's grand if they don't stop. They obviously have other things to do, or don't really like music … maybe."
Ellen assured the pre-teen that she was "on her way" to superstardom and jokingly presented her with a stage that she could set up the next time she took to the streets to busk.
What do you think of Allie's voice? Who is your favourite singer? Do you have a child or grandchild with an incredible talent?
---
Ad. Article continues below.
With Facebook removing news sites from your feeds we ask that you sign up for Starts at 60's emailers here. And to keep us on your wall, join some of our new Facebook groups and clubs:

News Junkies Club – Australia
News Junkies Club – USA 

See news on the change and links to all our other clubs and groups here.