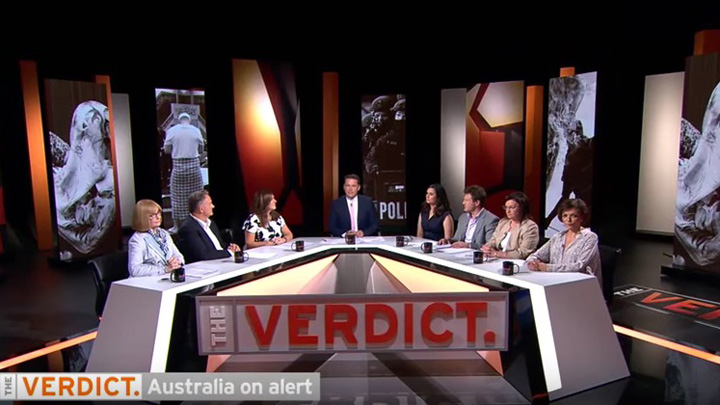 Am I getting old or is television just insufferable these days? Never mind the fact that everyone looks the same and no one seems to have any new ideas for storylines (or a desire to use them), and never mind the endless cat videos and kids hurting themselves on swings, the thing I hate more than anything else is… panel TV.
Who are these people and why are they all shouting at or over each other?
Morning television has become a barrage of voices all clamouring to get their message across – at once. Is this democracy in action? Well, if so, I say bring back the dictatorship and letting Kochie speak.
And while we're at it, what's with the stools or the new trend of standing up while presenting the morning show? We know sitting is the new smoking but surely a couple of hours sitting on a nice sofa won't kill you while you read the news?
But back to the panels. I don't mind a bit of Q&A so long as Tony Jones keeps it under control, but even more important than keeping the noise and confusion down is the choice of who to have on the panel. Tackle whatever topic you want, but please TV people, please make sure the people you have on the panel have some shred of authority to speak on the topic!
Last night on The Verdict, Tasmanian MP Jacqui Lambie was spouting off about Charlie Sheen's HIV. Is she a doctor? An ethicist? No, neither.
"I think he's gone from Two and A Half Men to his new sitcom 'I'm Behind Bars'" #TheVerdict https://t.co/30oak4nZIC

— #TheVerdict (@TheVerdict9) November 19, 2015
And during bottom-gate, we had to listen to multiple talk shows chat about whether or not one could touch a member of the royal family. Could the producers not find someone who actually knew the answer?
I'm told that on these shows refer to the people they put in front of the camera as "talent" but, I'm afraid to say, I'm not seeing much of that!
Do you watch "panel-style" TV shows? What do you love and hate about them? 
Comments