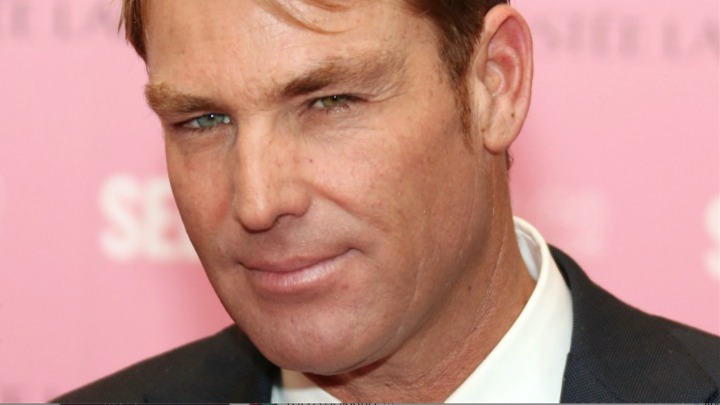 Ahh Warnie… he just can't seem to escape those pesky rumours about his love life lately.
Now the cricketing legend wants to set the record straight and let you know that he is available for some good ol' fashioned loving.
Earlier this week, pictures surfaced of Shane with a young blond woman in London. Reports stated that he was "smitten" with her and claimed she was his girlfriend.
Never one to shy away from the public eye, Shane took to is Twitter account to tell fans he was still very much single.
"Never complain or never explain, but FTR (For The Record) I am very very single," he wrote.
"Not seeing anyone. Facts straight please u silly reporters!"
Ps Never complain or never explain, but FTR I am very very single & not seeing anyone. Facts straight please u silly reporters !

— Shane Warne (@ShaneWarne) June 20, 2016
Warnie's love-life has been in the spotlight for years now thanks to a series of high-profile relationships.
He was with Hollywood star Liz Hurley for four years, with the pair becoming engaged before eventually breaking up.
Recently, he had a public spat with Brynne Edelsten after labelling her "sad" after she invited him back to her apartment after a night out.
"Some people never cease to amaze me. Listen to this one," he wrote on his Facebook page.
"After a fun night raising money for breast cancer in Geelong last night, me & a few friends plus Brynne Edelsten went out for a couple of drinks. Brynne then invited me back to her place around 1am for a nightcap, when I arrived, paparazzi were conveniently waiting outside her home to get the pic, coincidence? I left instantly and thought how sad is that!"
Brynne hit back, saying she was "sad" that Warnie had chosen to talk about that night publicly.
"I used to have a huge crush on him and told him at the charity event in Geelong," she told Woman's Day.
"He replied, 'You did, or you still do?' before grabbing my bum. That surprised me a bit, but he'd had a bit to drink by that stage."
Warnie is yet to respond to that one. But the good news is, he's still available for a lucky lady to out there!
Would you ever go on a date with Warnie? Are you a fan of the cricketer?
Comments