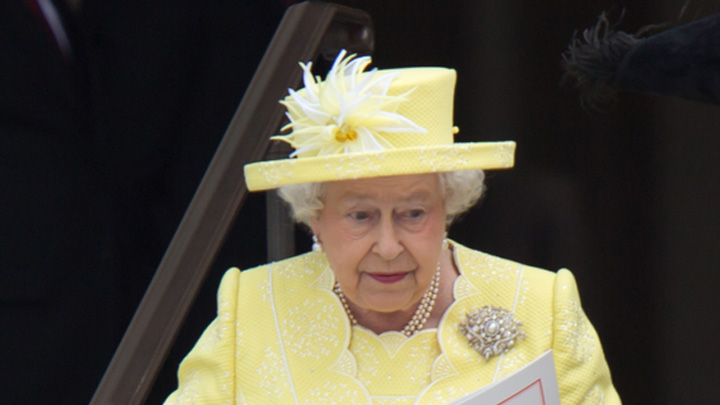 She might be the Queen of England but it seems Queen Elizabeth isn't playing in the Game of Thrones. The most pirated and watched TV show at this present time, Game of Thrones, was filmed in Northern Ireland, in part at the famous stones of the Giant's Causeway.
Overnight, the Queen visited the landmark which was the set for the HBO show. It was a part of her 90th birthday celebrations and to retrace the steps of a scenic rail journey she first made in her coronation year.
The Queen and Prince Philip also unveiled a statue to a Victoria Cross winning hero of the Battle of the Somme but fans of Game of Thrones were most excited to see Her Majesty once again on a set used for the program.
Last year the Queen famously came face to face with the infamous Iron Throne and refused to sit on it, ruining the biggest photo opportunity of our modern times. But there was a good reason for it: there's a law that stipulates she cannot sit on any foreign throne, including those in fictitious popular television series!
Game of Thrones is the largest TV production in Europe and the series has created several thousand jobs for the people of Northern Ireland.
Well-wishers waved at the Queen as she passed, from beaches, golf courses, level crossings and even back gardens.
Joan Smyth, vice president of the Railway Preservation Society of Ireland, had waved to the Queen's train as it passed her as a child in 1953.
"It's very exciting to have her here and to use the steam train," she said, on board the same carriages. "We treat it as an honour."
For the visit, the Queen wore a bright green coat and matching hat by Angela Kelly – a look she must love as last week she wore a very similar green outfit to her birthday celebrations, effectively stealing the show.
At the Giant's Causeway, the Queen asked about the rocks, said Neville McConachie, the visitor experience supervisor at the National Trust site. "She was asking about the formation of the rock and I was telling her it was either caused by nature or a giant, and I believe a giant."
Mr McConachie said he told the Queen that the Scottish giant Benandonner reputedly destroyed the rock bridge as he fled Ireland in fear of doing battle with Finn MacCool, reports the Belfast Telegraph.
"People did say that he actually moved to America, but I was asking her was he maybe knocking about Balmoral," he joked.
Tourists from around the world were at the causeway, cheering and singing God Save The Queen!
It certainly was a day to remember. Take a look at the pics and tell us your thoughts below:
Comments