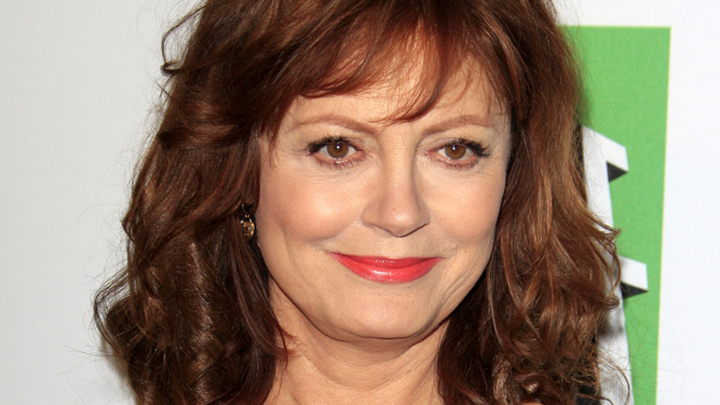 At 69, Susan Sarandon is still a very attractive woman, and has made it clear she does not bow to stereotypes about what women of a certain age should or shouldn't wear – last week she wore a cleavage-baring outfit that had chins wagging.
Controversial British journalist Piers Morgan hit out at Susan's daring look at the SAG Awards and said it was "horribly inappropriate".
Sarandon introduced the Screen Actors Guild Award's In Memoriam tribute in a white blazer and black bra that revealed some cleavage.
Piers Morgan quickly tweeted a photo of Susan and said, "Would Susan Sarandon wear this to a funeral? No…It was thus horribly inappropriate for an In Memoriam tribute".
Now, Susan has fired back and "dedicated" one of her flashback pics to him in her cheeky, sassy style.
"Today's #TBT (throwback Thursday) is dedicated to Piers Morgan" reads the text accompanying a saucy photo of Sarandon, clad in just a white bra, in "The Rocky Horror Picture Show".
Susan then retweeted female (and male) Twitter users who'd posted photos of their own cleavage in protest of Piers' comments.
Piers responded within 15 minutes of Susan's own tweet and sent his own half nude photo to her.
"Just for the record, Susan Sarandon, I think your cleavage is magnificent," he wrote. "I'd just keep it hidden for 'In Memoriam' tributes".
Take a look at the exchange and tell us: do you think she should have been a bit more conservative? Or was her outfit totally fine?
Would Susan Sarandon wear this to a funeral? No.
It was thus horribly inappropriate for an In Memoriam tribute. pic.twitter.com/hMoGChJY8D

— Piers Morgan (@piersmorgan) February 3, 2016
Today's #TBT is dedicated to @piersmorgan. pic.twitter.com/InU7d6qhC0

— Susan Sarandon (@SusanSarandon) February 4, 2016
Today's #TBT is dedicated to @SusanSarandon. pic.twitter.com/g8Wh6phMrA

— Piers Morgan (@piersmorgan) February 4, 2016
Just for the record, @SusanSarandon, I think your cleavage is magnificent.
I'd just keep it hidden for "In Memoriam" tributes.
Love Piers x

— Piers Morgan (@piersmorgan) February 4, 2016
Comments