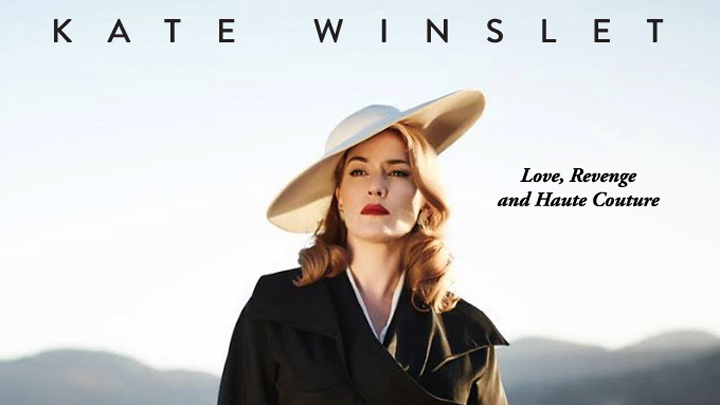 "I'm back you bastards," announces Myrtle "Tilly" Dunnage (Kate Winslet) to nobody in particular as, dressed to the nines, she arrives, Singer sewing machine in hand, in the drab, dusty township of Dungatar in 1951 after many years of exile.
This sounds like war and that's what the tribes are about in this town. I grew up in a very small dusty, distant town in the early 1950s and can relate to oh so much of this beautifully made film.
The Dressmaker is as Australian as Muriel's Wedding and Priscilla, Queen of the Desert but quite dark at times. The plot encompasses child death, marital rape, domestic violence and so much more, but always with some humour, which brings a light-heartedness to some very dark scenes.
10-year old Tilly was "suspected" of being involved in the death of a local boy. Surreptitiously she's whisked away to a Melbourne boarding school, from where she eventually absconds and finds her way to the top couturier houses in Europe. She returns to her roots to settle a score. Tilly wants to learn what really happened the day Stewart died, but under such traumatic circumstances she's blocked it all from memory. Even her own mother, Molly (Judy Davis), a feral, booze-swilling, dementia-addled and perpetually foul-tempered and foul-mouthed banshee (known to the locals as Mad Molly), doesn't believe in Tilly's innocence.
Tilly makes her grand entrance at a local rugby match in full evening regalia: a red satin dress, elbow length gloves and dizzying stilettos. She becomes the hero of the town (for a moment) when she ably distracts the opposition team enough for Dungatar to have its first win. This is where she reconnects with Teddy McSwiney (Liam Hemsworth), who takes an immediate interest in this worldly and sophisticated old school friend.
Nothing has really changed in Dungatar in 20 years since Tilly left. The town chemist (Barry Otto) is still a self-righteous religious fanatic. The local schoolteacher (Kerry Fox) is still a bitter old hag who clings to her claim that she saw the young Tilly kill Stewart. The dead boy's father, Evan Pettyman (Shane Bourne), the councillor of Dungatar, retains a cruel control over the town as well as his grief-stricken, long-suffering wife (Alison Whyte), and the local policeman (Hugo Weaving) is still cross-dressing!
Gertrude "Trudy" Pratt (Sarah Snook) is a plain-Jane shop worker who steps into one of Tilly's beautiful creations and enjoys a Cinderella moment at a local dance. Before long, Tilly's dressmaking career is thriving and she has more orders than she can handle, though it's clear that she has more than just turning heads and profits on her mind.
The film is quite burlesque at times and surreal, but has a deep dark reality also. The fast-paced madness of it guarantees you won't be bored. Kate Winslet is a magnetic lead, but Judy Davis is the real star of the film. There is a "who's who" of Australian actors in this: Rebecca Gibney, Shane Jacobson, Terry Norris to name a few.
The sometimes-unsettling score by David Hirschfelder was both atmospheric and fantastic, helping to recreate a sometimes surreal, rural 1950s township.
ROK'S RATINGS: 5 glasses bubbly – and I could come back for more!
Comments