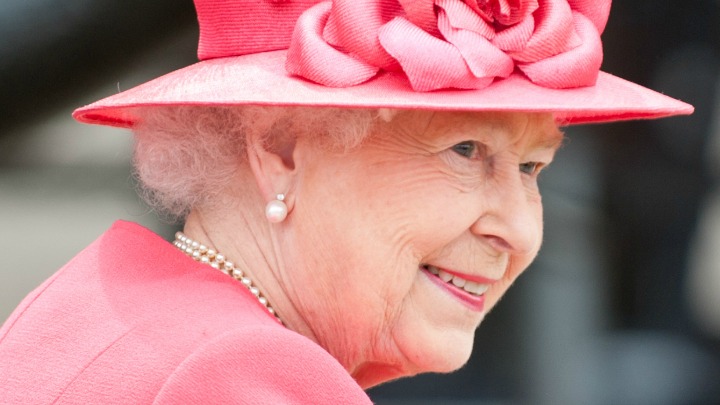 After "Brexit", and no matter how the Queen really feels, it still has to be "business as usual" for Her Majesty as she carries out her ceremonial duties.
Just yesterday, the monarch arrived at the 'society wedding of the year' between Mounbatten heiress Alexandra Knatchbull and her fiance Thomas Hooper where Prince Charles gave the bride away.
Alexandra Knatchbull is the daughter of Lord Brabourne a close friend to Prince Charles since he was a child, and the Royal Family.
Her Royal Highness was joined by the Duke of Edinburgh as she made her way into Romsey Abbey, in Hampshire, as Charles accompanied Miss Knatchbull, the daughter of his close friend Norton Knatchbull, who holds the title of Lord Brabourne, into the church, reports Daily Mail.
Although the event was attended by high society which dressed to the nine, Her Majesty still won hands down – her floral dress looked stylish and was perfectly matched with a bright peach coat and matching hat.
Her Majesty looks stylish with a gold pin on her coat, pearl earrings and pearl layered necklace. It looks like she is also wearing her favourite Ferragamo flat shoes.
The Duke wore tails and a gold waistcoat and Prince Charles cut a smart figure as he walked the bride into the Abbey in a grey three-piece suit with a light blue shirt and tie.

Lady Brabourne wore a grey-green skirt suit with matching hat and pearl earrings as she entered Romsey Abbey with her husband, Lord Brabourne.

King Constantine II and wife Queen Anne-Marie, former monarchs of Greece, attended the ceremony too.


Here's Queen Sophia of Spain who is dressed in a combination of grey, black and white.


Princess Anne looked like she had something similar to the Queen but she paired a soft pink jacket and skirt, with with a fetching two-tone pink hat.


Princess Sarvath al-Hassan also attended the event with her husband Prince Hassan bin Talal of Jordan where many foreign royals made an appearance. Princess Sarvath wore a soft green saree with a long line coat and kept her accessories all green as well.


Do you like the Queen's look?
Comments