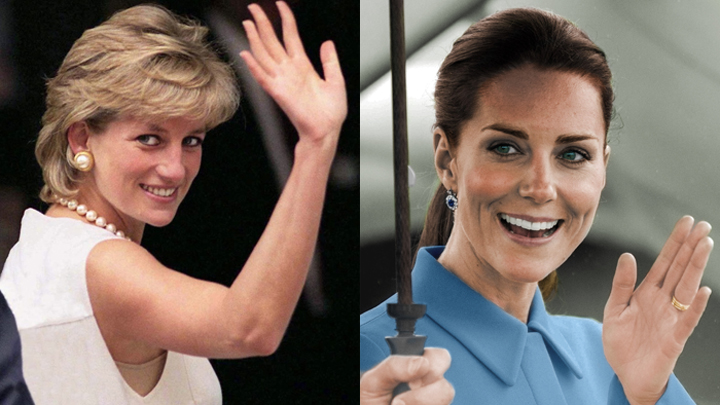 While rarely spoken about, many knew of Princess Diana's struggles with her mental health. She admitted to having bulimia, as well as seeking treatment for depression – and now her daughter-in-law is campaigning for the mental health of children around the world.
In a blog for Huffington Post, the Duchess of Cambridge said she 'would not hesitate' to seek help for her children if they were to suffer mental health issues.
In her first online blog as guest editor, Kate said she and Prince William will also encourage Prince George, two, and Princess Charlotte, who will turn one in May, to 'speak about their feelings' openly as they grow older.
She wrote: 'Like most parents today, William and I would not hesitate to seek help for our children if they needed it. We hope to encourage George and Charlotte to speak about their feelings, and to give them the tools and sensitivity to be supportive peers to their friends as they get older. We know there is no shame in a young child struggling with their emotions or suffering from a mental illness'.
Earlier this month the Duchess campaigned on the issue of better early intervention for children suffering from emotional and behavioural issues and is patron of several charities related to mental health. She also visited a prison and spoke to inmates last year.
'As was to be expected, I often heard some heart-breaking stories about lives that had been torn apart, with devastating impacts for all involved, particularly children', the Duchess continued.
'What I did not expect was to see that time and time again, the issues that led people to addiction and destructive decision making seemed to almost always stem from unresolved childhood challenges.
'It became clear to me that many children – even those younger than five – have to deal with complex problems without the emotional resilience, language or confidence to ask for help.
'And it was also clear that with mental health problems still being such a taboo, many adults are often too afraid to ask for help for the children in their care. It is time for this to change.'
'Parenting is hard enough without letting prejudices stop us from asking for the help we need for ourselves and our children'.
You can read her full blog here.
Tell us your thoughts below.
Comments