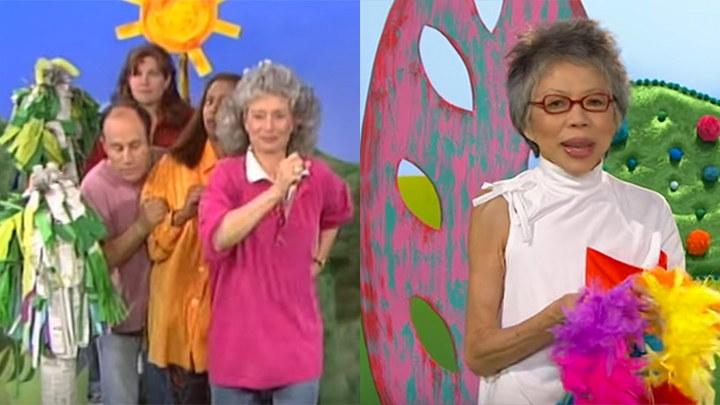 The makers of Playschool have decided to have a little fun with their 50 year celebration and have yesterday released a teaser of their upcoming 50 year anniversary series, a run of Play School Celebrity Covers that includes some of the finest faces in TV.  Can you imagine the likes of Annabel Crabb with Leigh Sales, Carrie Bickmore, Delta Goodrem or Guy Sebastian all taking off their favourite Playschool stars?   Well here is the teaser folks… There's a little fun in every corner.
The mini episodes will be played from July 4 on the ABC Kids channel  and iView in the lead up to the shows official birthday on July 18.  They will feature popular celebrities trying their hand at being a Playschool Presenter.  They'll join with Big Ted and Humpty Dumpty and Jemima to make our day by the looks of it.
Featuring in Play School Celebrity Covers are: Adam Goodes, Annabel Crabb with Leigh Sales, Architecture in Helsinki, Benita Collings with Don Spencer, Bernard Fanning, Carrie Bickmore, Costa Georgiadis, Dami Im, Dan Sultan, Delta Goodrem, Emma Wiggle, Guy Sebastian, Hamish and Andy, Jeremy Fernandez, John Hamblin, Josh Thomas, Kate Ceberano with her daughter Gypsy, Kate Miller-Heidke, Katie Noonan, Kurt Fearnley with Rachael Coopes, Lee Lin Chin with Takaya Honda, Magda Szubanksi, Caitlin Cooper, Ellie Carpenter and Michelle Heyman from the Matildas, Missy Higgins, Molly Meldrum with Charlie Pickering, The Umbilical Brothers, Tim Minchin, Tim Omaji and You Am I.
For those of us who feel the full fifty year affinity with the show, here's a reel that will take you back too.  Tell us today who was your Playschool crush on? John Waters perhaps or maybe Benita Collings?
Comments