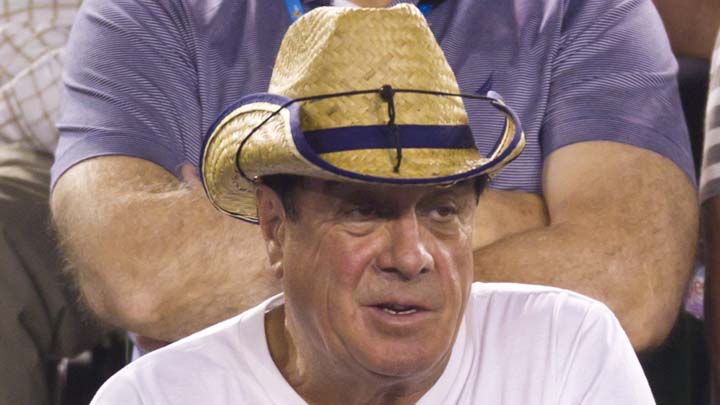 In an exclusive editorial for News Corp, Molly Meldrum has revealed everything his fans want to know: how he's doing after his terrible fall in Thailand and what he thinks about the Molly miniseries that airs tonight on Channel 7.
The piece, written by Molly himself, explains that he went to Thailand to get away from the attention surrounding the show, but admitted that has backfired.
"The good news is I'm feeling a lot better", he wrote. "Thankfully I didn't have to have back surgery and I'm back at my hotel resting".
On the subject of the miniseries, and if he'll watch it, Molly explained "I watched it last year with Sam, who does a great job of playing me I might add".
"That was weird enough. I don't need to see it again. Also, remember I lived it first time around. And that was pretty weird too".
There was one part of the miniseries that was upsetting for the music guru: the reenactment of his first fall in 2011.
"The scene where Sam falls off the roof was particularly hard to watch. I had to turn away when that was on", Molly said.
"And it was really hard to watch the bits where I'm unconscious at the Alfred Hospital".
Ever the humble man, Molly also wanting to ensure that by going to Thailand, media attention would be on the people who actually star in the show.
"I really want the focus to be on the actors involved. They should be getting all the attention, not me. They've all done great work, as did all the people behind the scenes", said Molly.
On the topic of why he chose Sam Johnson to play himself, Molly said Sam was his first choice.
"He'd just embarked on the unicycle tour to raise money for his Love Your Sister charity when the initial talk about this miniseries came up. I saw his other sister Hilde after he left for the ride around Australia and she suggested Sam for the role. It was one of those things that just made sense to me. I'd known Sam's father and the family for years, it all felt really natural".
At times Molly worried that Sam was turning into him! "When we were doing interviews together there were times I felt Sam was actually becoming me. I remember he asked someone what the question was because he'd forgotten. Sometimes on Countdown I'd have to ask the person I was interviewing what the question I asked was because I'm rambled on so much I'd forgotten it!
"But there was one thing I really wanted them to put in, which they did, and I'm really grateful. I wanted to have my grandma represented in there, she always told me that you should treat everyone the same. That no one is above you and no one is below you. That's been very important to me, I've tried to live by that motto all my life.
"My gran would be happy if she's up there watching down and seeing that. I don't know how she'd cope if I was kissing a guy in a laneway. She'd probably grab me by the ear and drag me off to church!
"Everyone who has seen it loves it…I really hope the public enjoy it.
"As far as the reaction to the miniseries, to paraphrase Frank N Furter from Rocky Horror, I'm shivering with anticipation", he finished.
Molly airs tonight on Channel 7 at 8.30pm.
Tell us: are you glad to hear about Molly's progress in Molly's own words? Will you be watching tonight?
Comments