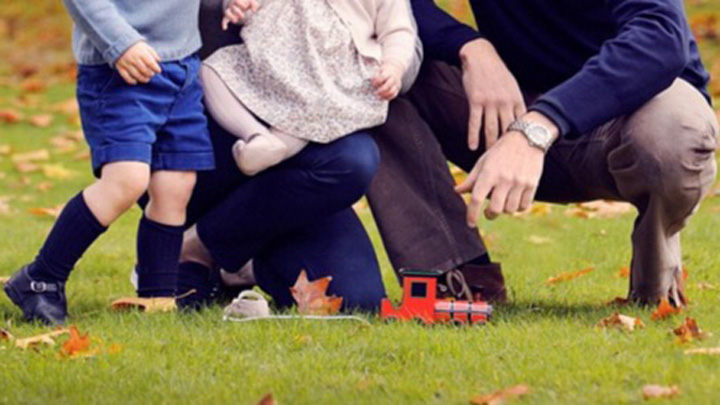 It's not often we are privy to family portraits of the royals, however this weekend we have a special treat: a beautiful photo of Prince William, Duchess Kate, Prince George and Princess Charlotte, taken in the gardens of Kensington Palace.
CNN reports the lovely snap was taken by photographer Chris Jelf in late October.
"I thoroughly enjoyed photographing a very lovely family — although you have to be sharp as you don't have long when there are two young children involved," said Jelf.
"The Duke and Duchess are hugely appreciative of all the warm messages they have received about their family this year and are very much looking forward to their first Christmas as a family of four," the palace said in a statement.
It's little George who steals the scene in the new image, with his signature cheeky grin. Also, if you look carefully, you can see one of baby Charlotte's shoes has come off!
The new photo coincides with the news that the 2-year-old Prince will start attending Westacre Montessori School Nursery in Norfolk in the east of the country before the end of January.
Both William and Prince Harry attended Montessori nurseries that are known for their emphasis on creativity, freedom to move within the classroom and developing a sense of independence through one-on-one education, reports the Daily Mail.
But perhaps the loveliest thing to hear is that it'll be no means the most expensive school, and instead was chosen due to its proximity to Prince William's work and the family's home on the Sandringham Estate.
The modest, rural school cost $8.20 per hour, or $49 per day.
Take a look at the beautiful family pic below and share your thoughts!
Comments