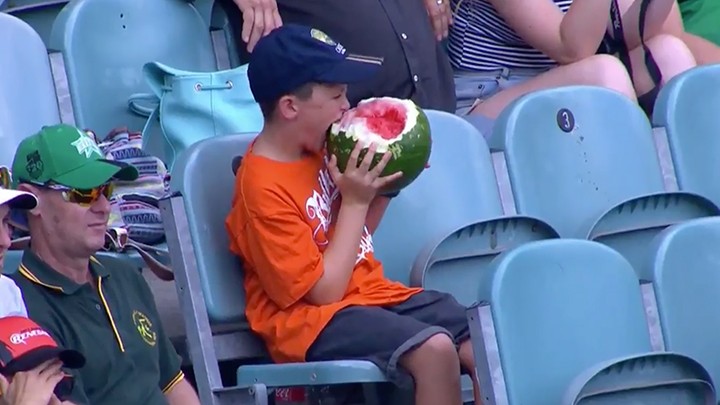 Tony Abbott can chomp into a whole onion, but this young Australian is giving him a run for his money!
During a recent Channel Ten sports broadcast at the MCG, the cameras and commentators alike began to fixate on a boy in the crowd who was casually taking on an entire watermelon – skin, seeds and all.
Watch the full video below:
#WatermelonBoy spotted at #WBBL01! pic.twitter.com/qBDrMiambE

— TEN Sport (@tensporttv) January 2, 2016
Over the match, they kept returning to the watermelon, following his progress with increasing fascination and amusement.
#WatermelonBoy has since become a national trend, with the Internet keenly embracing him as only the Internet can…
Here is the final effort from #watermelonboy @tensporttv @mcg @BBL pic.twitter.com/XQ2blGugTA

— Tony Schibeci (@theschibecsta) January 2, 2016
@tensporttv He did start young #watermelonboy #BBL05 #BBL pic.twitter.com/PDxeLiVMh0

— Ron (@Ron_Boll) January 2, 2016
Turnball considering a frontbench reshuffle to include #watermelonboy pic.twitter.com/cVET1zqbuI

— Peter Higginbotham (@PeterHiggo) January 2, 2016
Comments