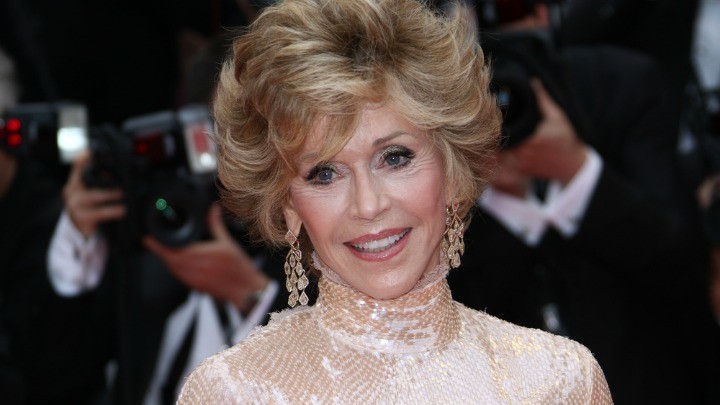 The 2016 Golden Globe awards have just wrapped up and some really great people won well deserved awards (Leonardo diCaprio, Kate Winslet, Sylvester Stalone to name a few).
But let's face it, the focus of the show is typically on the red carpet and it wasn't just the trend for baring one's midriff that had tongues wagging – there has been a heated debate about Jane Fonda's striking dress.
Some say is a perfect example of Hollywood glamour and style, while others are not so enthused… Take a look and tell us what you think:
Jane Fonda in ruffles. We are not worthy. #GoldenGlobes pic.twitter.com/KwyKgn1B5h

— Ashley Weatherford (@sincerelyash) January 11, 2016
Jane Fonda's Saint Laurent gown conjures an era when you dressed for tablemates rather than some dumb Glam Cam 360. pic.twitter.com/RpXvKmh5iD — Alexandra Jacobs (@AlexandraJacobs) January 11, 2016
I want to eat the buttercream frosting festooned cake they built around Jane Fonda 🙂 #GoldenGlobes

— Erin Gloria Ryan (@morninggloria) January 11, 2016
Then and now with the amazing @Janefonda in 1979 and today at the #GoldenGlobes! pic.twitter.com/Tqo1VRI50p — TODAY (@TODAYshow) January 11, 2016
Hollywood commentator Perez Hilton described Fonda's outfit as "overkill" and even her great accessories couldn't save her outfit. He did concede that, at 78, she looked pretty darned good, though!
Although there were six over 60s nominated for Golden Globe awards, none went home with a gong. Fonda missed out on a best supporting actress role to Kate Winslet, and in the preamble for the award, presenter Jonah Hill, dressed as a bear made a comment so laden with expletives that it evoked this reaction:
Jane Fonda giving you your mom's "wait till we leave this store and get to the car" look #GoldenGlobes pic.twitter.com/iwAE8vXR5a

— Ira Madison III (@ira) January 11, 2016
Other memorable moment from the Golden Globes were Jerry Hall arriving with her new beau, Rupert Murdoch.
After all these years, Sylvester Stalone finally won an award – best supporting actor for the new Rocky film, Creed. In his aceptance speech, he thanked his "imaginary friend" Rocky Balboa for being the best friend he ever had.
Gostei de um vídeo @YouTube https://t.co/TI99aeHrXK Stallone Wins Best Supporting Actor at the 2016 Golden Globes — R. Oliveira (@rickjpo90) January 11, 2016
As always, Helen Mirren got it just right, choosing an elegant black gown. Apparently she got a chance to show that she is incredibly down to earth, as this tweet explains:
Real moment tonight: Helen Mirren carrying 2 plates asks "Where's the kitchen?" Yes, Dame Helen Mirren, in gown & jewels, cleared her table.

— Willie Geist (@WillieGeist) January 11, 2016
So tell us, what do you think of Jane Fonda's Golden Globes dress? Too much or spot on?
Comments