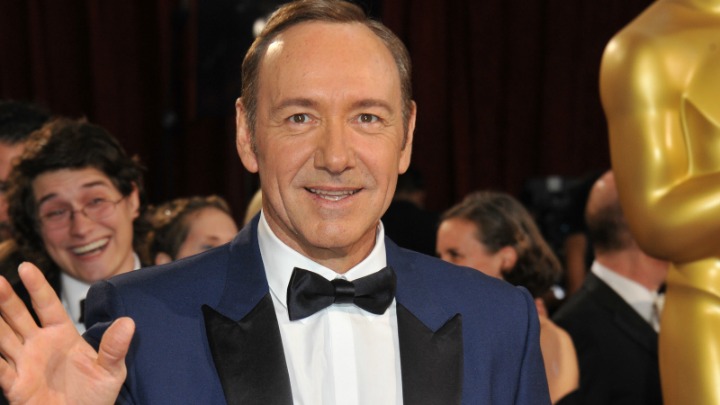 Just when we thought Sir Rod Stewart was the only one recognised for his contribution to the entertainment world, it has been revealed that Prince Charles has awarded another entertainment heavyweight – Kevin Spacey!
The New Jersey-born star who is finishing a 10-year run as artistic director at London's Old Vic theatre, was awarded the honorary title of Knight Commander for his services to theatre, the arts and international culture, reports Daily Mail.
Kevin said he was "honoured and humbled" by the monarch's recognition and thanked Britons for supporting his work.
"I feel like an adopted son," he said.
He sent this tweet to thank Prince Charles…
I may play a President on TV, but in real life I'm now a Sir. Thanks HRH–what a prince of a guy! pic.twitter.com/Pqs00wka7Q

— Kevin Spacey (@KevinSpacey) June 16, 2016
Kevin attended the ceremony at The Mall wearing a classically cut two piece suit in blue with a light blue shirt and dark stripy tie.
Meanwhile, Prince Charles meanwhile stuck to his traditional, signature look wearing a double breasted pin-striped suit in navy, teamed with a white shirt and tie.
Receiving the his title at a ceremony held in Clarence House, London, the 56-year-old actor looked delighted to be handed his KBE by Prince Charles.
While Kevin will be allowed to place the letters 'KBE' behind his name, but as a recipient of the honour from outside the Commonwealth, he will not be allowed to style himself as 'Sir Kevin'.
Kevin has two Oscars to his name and continues to garner honours and acclaim for his career on both the stage and the screen. He shows no signs of slowing down, in fact, he is about to embark on the promotional trail for his latest movie Nine Lives, which sees him play billionaire hotshot Tom Brand, who is taught a lesson in love by being transformed into his 11-year-old daughter's cat.
He also has three more films in post-production and is also set to return to Netflix in House of Cards as the anti-hero president, Frank Underwoood.
The hit-series which is set to be released in February will see "Frank" attempting to clinging to the reins of power as POTUS.
Well done, Kevin. Congratulations!
Watch some of Kevin Spacey's top performances…
Are you happy for Kevin's latest achievement? What movie do you remember watching him in?
Comments