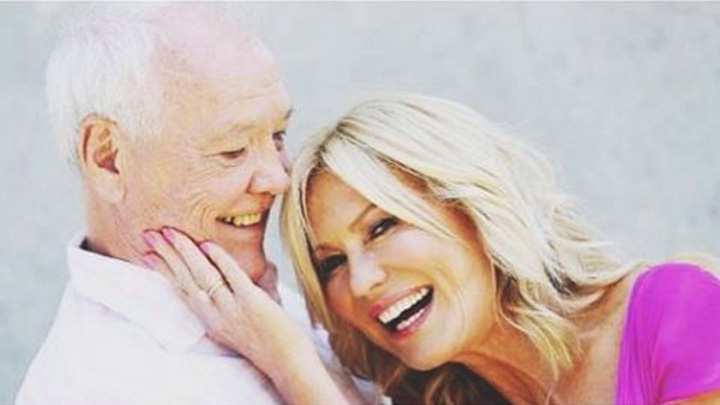 Kerri-Anne Kennerley's husband John has spent the last three months in a living hell as he recovers from an horrific fall in March. The celebrity couple have been as thick as thieves while John says in hospital, but KAK has now revealed she has gone to America on a well-earned personal break.
The 62-year-old posted a picture of herself in New Orleans, captioning the image: "Visiting the superdome which homed thousands during the devastating Hurricane Katrina."
She felt bittersweet about leaving: "Already missing John as I fly off but he is working hard in rehab and is in fabulous hands at the Prince of Wales hospital". John has been hospitalised with a severe neck injury since March and is still trying to get his mobility back.
Kerri-Anne looked relaxed in an outfit that showed off her trim body, and revealed the trip was for Sunday Night on 7 – hinting that there may be a special episode coming.
The former talk show host spoke to the Women's Weekly recently and said when doctors removed John's resuscitation tube, enabling him to breathe by himself, it was a moment of huge relief.
Before then, Kerri-Anne had to think about possibility of losing her husband as she knew him.
'That was the moment when I felt he'd really come back to me', she said.
His first words were ones she will always remember – "He said 'I love you' which, of course, I will always treasure".
The photos of her holiday come as Kerri-Anne's dancing partner on Dancing with the Stars, Carmelo has revealed how important she was in his life and how she helped save his life.
"She's like my second mum," Carmelo, 42, told Woman's Day.
"Kerri-Anne became the one person I opened up to. She knows me back to front," he said.
Commenters on Kerri-Anne's Instagram fully supported her decision to go to the US, with one woman saying "Looking after yourself us just as important as looking after John.. Imagine how beautiful your reunion will be, even after a short time.. You are a remarkable lady and you're both lucky to have each other.. #trueconnection" and another: "It's important to look after yourself as well, I'm sure the rehab team and nurses would of said this to you too"
Tell us, would you be able to leave your partner in hospital to go overseas? Is it important to have time to yourself?
Comments