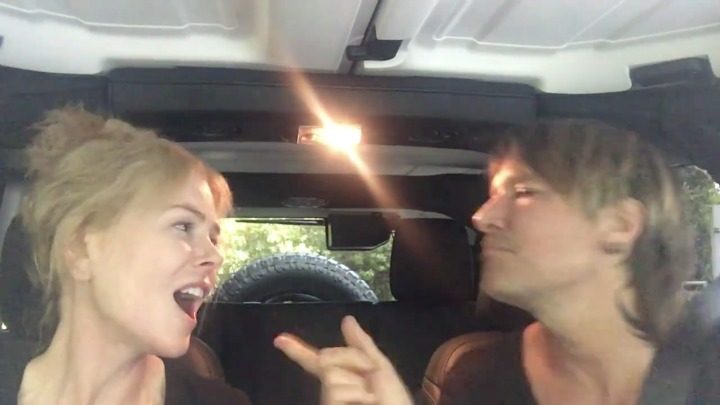 They're celebrating 10 years of marriage this June and it looks like Nicole Kidman and Keith Urban are just as in love today as the day they said 'I do'.
Keith took to his Facebook page to share a video of the pair mucking around in their car singing along to his hit song 'Fighter'.
Belting out the tune, the couple don't hold back as they sing the catchy song to each other and bust out a few dance moves.
The couple usually choose to keep their private life to themselves so fans were ecstatic to see such a fun and intimate moment between them.
"I love how Keith and Nicole are having so much fun together!" wrote one commenter.
Some even had a cheeky dig at Nicole's ex-husband.
"Tom Cruise is watching this, plotting ways to turn Keith Urban into an alien using scientology sorcery," said another commenter.
While other celebrity couples, *cough cough – Kardashians* choose to splash their relationship all over the internet and television, Nicole and Keith have kept a low profile over the past 10 years.
In the past though, Keith has talked about how Nicole "saved him" from his drug and alcohol addiction and helped him get his life back on track.
A few months after they married in 2006, Keith entered rehab for the third time in eight years.
He says it was his love for Nicole that finally helped him get better.
"I've learned so much since getting married," he said.
"I like where Nic and I are right now and I like where I am in my life and whatever that journey was to get me to here, I wouldn't want to change any of that.
"There were times early on when I wished I would have been sober and in recovery and everything when I met Nic and I wasn't.
"But the other way to look at it, which is a much better way and so true, is that we've been able to build our relationship with that… We've been able to build that together," he said.
"That wasn't something that was in place before I met her, so there's a real power in that as well, and I think it's given us a really powerful foundation."
Are you a fan of Keith Urban and Nicole Kidman? Who's your favourite musician and actor?
Comments