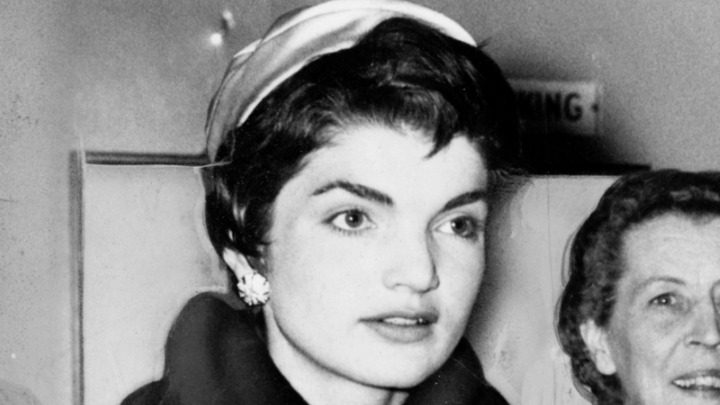 Jacqueline Lee "Jackie" Kennedy Onassis, or affectionately known as 'Jackie O' is remembered for her contributions to the arts and preservation of historic architecture, as well as for her style, elegance, and grace. She was a fashion icon. Remember her famous ensemble of pink Chanel suit and pillbox hat?
Latest, a miniseries about her life called 'The Kennedys: After Camelot', is being produced and an actress has been selected to play Jackie O.
What big shoes to fill!
Katie Holmes is playing Jackie O in the much anticipated series which follows the family as they try to recover from Jack and Bobby's assassinations.
Katie's been filming in Toronto and in between shoots, she's been spotted in a quintessentially classy Jackie O getup: brown heels, billowing trousers, a turtleneck and a smart blazer.
Katie also wore Jacqueline Kennedy Onassis' signature oversized sunglasses and a gold necklace for a scene, in which she is mobbed by a gaggle of photographers as she walks down the street – something that happened a lot to Jackie herself.
The series, which started filming this year is set to air in 2017, also has Matthew Perry playing Ted Kennedy.
This isn't the first time Katie is paying Jackie; she actually took on the same role in the 2011 'The Kennedys.
Compare their photos…

Will she make a good Jackie O? Well, according to the New York Post, "It takes a while for Holmes to get her Jackie on, but once it's on, you won't believe you aren't watching film clips of the first lady."
See what Katie says about her challenging role…
Do you like the Jackie O style? Are you looking forward to this movie?
Comments