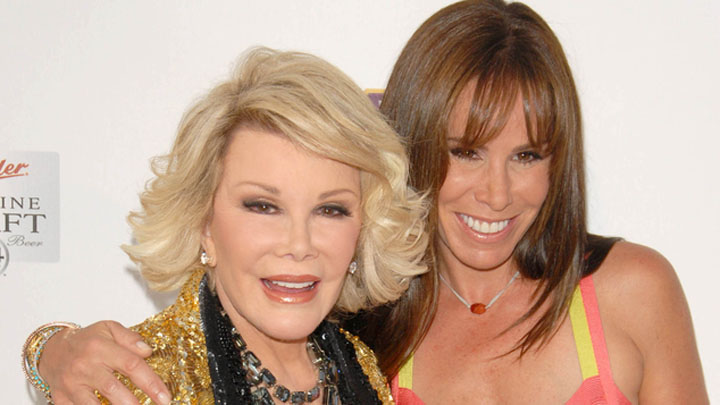 One of the most intriguing and memorable parts of the new movie 'Joy' is when Joy meets Joan Rivers. It was a double take – surely they couldn't have found an actress who looked so similar to the late comedienne? Well, they did – her daughter Melissa.
Joan Rivers sadly died in September 2014 after a botched routine vocal chord surgery. It was a devastatingly blow not only to her daughter with whom she was very close, but to the whole world who loved her sharp wit and razor tongue.
And Melissa played her mother perfectly, with just the right amount of schmaltz, as she would say!
The cameo in new drama Joy is based off real events when Joan Rivers was selling her fashion products on home shopping network QVC in the 90s.
Speaking about the touching role, Melissa deadpanned, "I think she would be a little miffed that they didn't have Cate Blanchett playing her.
"I think she would have wanted Cate or Helen Mirren, had it been in the later years, because, of course, when you think of my mother you think of willowy and English"!
Melissa was pitched the role only about four months after Rivers passed at the age of 81, reports Vanity Fair. Understandably Melissa was torn but was certain her mother would want her to do it.
"I could hear my mom's voice in my head going, 'You get to work with David O. Russell, Jennifer Lawrence, and Bradley Cooper. . . . What are you doing even questioning this?"
"My mother adored Bradley," Melissa recalled. "First of all, she loved his work and thought he was adorable. Then they were on a flight together once and he behaved like such a gentleman. My mother never forgot he put her bag in the overhead compartment and got it down for her. It was [comedian] Nick Kroll and Bradley and my mom all on the same flight, and my mother became like den mother. She's like, 'O.K., we're all going to chat. Now we're all going to go to sleep.' Then she was like, 'Goodnight, everybody'".
"Jennifer walked up to me on set and quoted her favorite Fashion Police line from over the years back to me, which was my mom saying, 'That dress is so ugly, it looks like it would be good at math'. What a way to break the ice with me".
"In the scene where they put Joy in a skirt, David said to me, 'What would your mom say?' When I told him, he said, 'Well then, say that.' That's the take they used. I kind of knew what she would say," Melissa says. "I spent a few years working for her".
Melissa was so honest about the role and what it meant to help: "You know, my mom only died a year ago September.
"I have basically put my head down, worked, tried to create the new normal for my son and I, and put the train back on track. To have [this film] this year, and with people liking my work, and liking that I did it, and feeling that I did her justice, it is such a bow emotionally for us that I feel like we can take a deep breath and say, 'We're getting this. We're going to be O.K.'".
Take a look and tell us, did you love Joan Rivers?
Comments