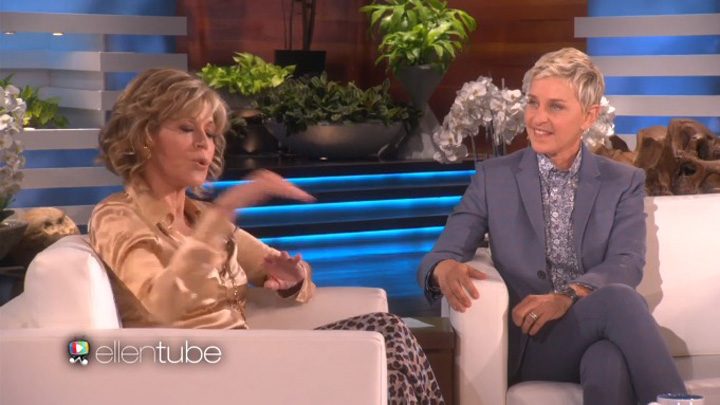 You either love or or you hate her but you have to admit: Jane Fonda has some very interesting stories! And this one has to take the cake. Overnight on Ellen, the 78-year-old actress revealed she'd be skinny-dipping not once, by two times in her life, no less with two of the most famous people in history.
"Of course," Jane responded when Ellen DeGeneres asked if she'd swam nude with Michael Jackson. "Here's how it happened; he was visiting me when we were shooting On Golden Pond and I had a little cabin on the lake.
"He stayed with me for about eight days and one night it was a full moon and he said lets go swimming. It was his idea!"
Jane said the King of Pop didn't bring his swimsuit so they grabbed robes and jumped into a lake.
The Grace and Frankie star also shared that she's probably the only person in the world who can say she's skinny-dipped with both Michael Jackson and Hollywood actress Greta Garbo.
"I was about 16 and my father had rented a house in the South of France," Jane said. "Then one day Garbo came and she said 'You wanna go swimming?'
"She came out with a robe and one of those white, serious, tight rubber caps. … She dropped her robe and, oh my god, her body. It made me so happy because it was so beautiful but it wasn't Playboy body. It was athlete body. She was so sleek and she dove into that cold water," the 78-year-old said.
"We were face-to-face in the water, treading water, and she said, 'Do you want to be an actress?' And I said, 'No.' And she said, 'Well, you're pretty enough, you should be.' I almost drowned," Fonda joked.
Have a look below and tell us: have you ever been brave enough to swim nude?
Comments