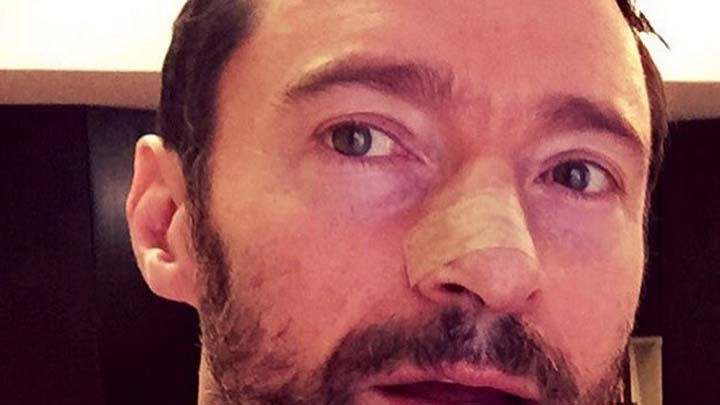 Hugh Jackman has never been coy about his battle with skin cancer, but now, after having his fifth cancer removed, he wants to send a very powerful message to all his fans.
The 47-year-old actor has taken to social media to warn people about what happens if you forgo sun protection.
"An example of what happens when you don't wear sunscreen. Basal Cell. The mildest form of cancer but serious, nonetheless,' he wrote alongside the photo. 'PLEASE USE SUNSCREEN and get regular check-ups.'
Last May, he revealed he'd had four skin cancers in 18 months and his doctor had warned him he would likely have more removed in the future.
Hugh first found out he had skin cancer when a makeup artist noticed a blood spot on his nose. When he had it checked out, it was confirmed: he had skin cancer.
The second time around he thought he just had a dark freckle but that, too, turned out to be cancerous. The third cancer was found after he noticed blood on his nose again.
Hugh now gets his skin checked every three months and during an interview to promote the 2014 X-Men movie, he said: 'I'm realistic about the future and it's more than likely that I'll have at least one more but probably many more, which is not uncommon for an Aussie particularly from English stock growing up in Australia where I don't remember ever being told to put sunscreen on.'
'The beauty of this is it's all preventable. It's just about getting proper check-ups, he said. 'I can be a typical man, I couldn't be bothered, and now I'm not lazy at all'.
"Deb said to get the mark on my nose checked. Boy, was she right! I had a Basal Cell Carcinoma.
"Please don't be foolish like me. Get yourself checked. And USE sunscreen!" he told his Instagram followers at the time.
"It's always a bit of a shock just hearing the word 'cancer'. Being an Australian, [skin cancer] is a very common thing. I never wore sunscreen growing up so I was a prime candidate for it," he has also said.
"I was trying to keep calm about it… basal cell carcinoma is just something you have to deal with. It's cancerous. It will grow. You just have to get it out.
"I go every three months for checkups. It's the new normal for me. My doctor says I'll likely have more and if that's your cross to bear in life, you should be so lucky."
There are three types of skin cancers: basal cell carcinoma and squamous cell carcinoma, which are known as non-melanoma skin cancer and melanoma, which is the most dangerous form of skin cancer.
It's a sad fact but according to the Cancer Council, two in three Australians will be diagnosed with skin cancer by the time they are 70.
And it's never too late to protect your skin, even if you have had skin cancer or haven't worn sunscreen your whole life.
Share your thoughts below.
Comments