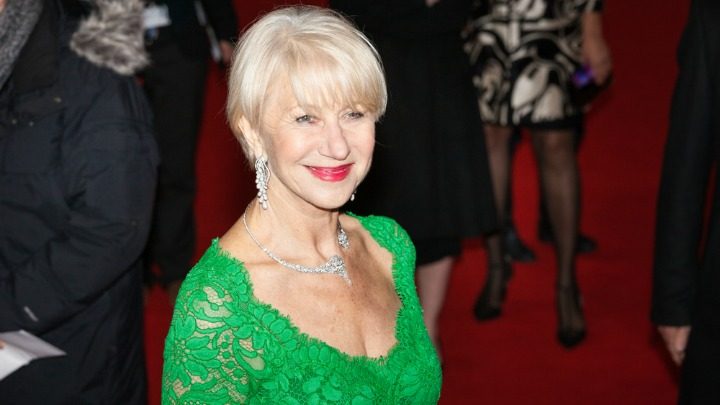 Helen Mirren is a crowd favourite not only because of her incredible talent but her elegant sense of style. These pictures of her in colourful outfits and fun accessories show us all that a closet of an over-60 does not have to consist of just mauve and taupe! Here she plays with bright accessories and interesting pieces that can really brighten up a look.
Arty and fun
At the IFT 25th Gotham Awards, Helen wore this dress that looked like it was made from a child's drawing and paired it with orange high heels, a blue belt, a dark green boxy bag plus sparkly purple earrings.
Need some makeup inspiration? Just look at how Helen does her eye shadow softly and finishes of with her favourite shade of lipstick, pink.
Helen added more colour to her ensemble by painting her nails pink. Here's her bag up close as well as a diamond ring.
Floral sensation
Helen looks both elegant and fun in this piece. She has been photographed wearing this same dress with orange, white, and beige shoes but this time, she opted to go with bright orange high heels. Note how her nails are bright pink and her makeup is kept natural and laid back.
A pop of colour
Helen is an expert at adding some excitement to her ensemble. Here she is at the Toronto International Film Festival wearing a bright shawl with her black and red dress. She balances the bright shawl with black heels and a black bag.
Pink punch
If you're more of a pants person, try this look. Helen shows that you can never go wrong with a white shirt and bright coloured pants. She keeps her accessories simple as well as light makeup.
Green queen
If you like wearing cardigans, this might be for you. Simply add a bright coloured cardigan to your dress for a look that's more fun.
A black bag and black peep-toe shoes complete her look. Check out the butterflies on her shoes…
Don't you just love Helen's earrings? See how her makeup is natural with a wearable lipstick colour.
Do you like Helen's style? Are you a fan of bright colours and quirky pieces?
Comments