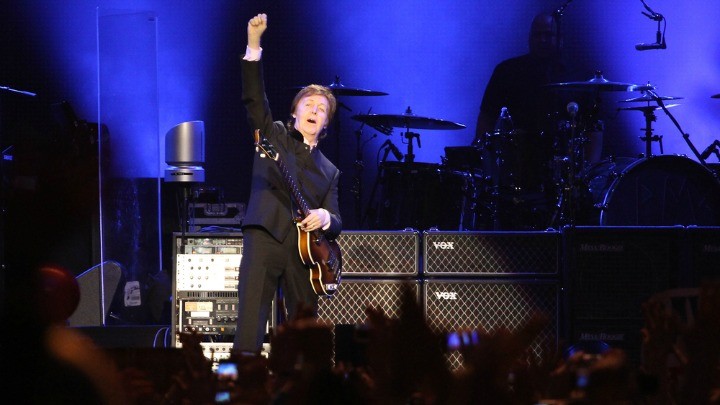 I'm going to come out and say something I've been thinking for a long time – and it may not be a very popular opinion…
The thing is, I really wish some – okay, most – of our old rockers would retire.
This feeling came to a head recently when I saw a clip of Paul McCartney performing She Loves You with Dave Grohl from a band called Foo Fighters. It was a YouTube clip shot on a phone so the sound wasn't great but, quite frankly, Paul sounded awful.
What's worse than that, he looked so old creaking around the stage, his movement just a little behind the beat in that old-man way.
The crowd in London, made up of plenty of young people, was going wild. But were they cheering Paul for being Paul or were they thinking patronisingly, "he's so cute!"?
I've been to several "old rocker" concerts over the years and have been largely disappointed. Art Garfunkel has truly lost his beautiful voice, as has Mark Seymour from Hunters and Collectors. Brian Wilson from the Beach Boys just breaks my heart; having had a stroke, his movement was quite limited when I saw him wheeled out to play at Carols in the Domain in Sydney, and there's something devastating about him being the only Beach Boy left.
That said, The Eagles were great, and Paul Simon was definitely the highlight of the Simon & Garfunkel concert I saw. But there's always that period where you have to sit patiently through the new material, when all you want is to hear your old favourites. And then, when you hear them, the joy slips a little as you catalogue the raspy voice, the reduced range and frailty of the person you once believed was close to immortal.
By all reports Fleetwood Mac is still performing once, but as Grace Slick from Jefferson Airplane recently said, there is something missing from the picture.
The singer, now 76, said, "I saw a film of Fleetwood Mac doing something, and I was okay as long as I didn't look at them. I couldn't look at them. They sounded great, and if I looked away and imagined young people singing I was okay with it."
Flick has previously said she left it 10 years too late before retiring at the age of 50 iand believes rockers should retire at 40 if they don't want to be remembered as some sort of joke.
"There's something about old people singing rock n' roll lyrics that bothers me – it just doesn't match," she said.
Sometimes I think it's a good thing Elvis Presley passed away when he did. How heartbreaking it would have been to have seen him clinging to sexiness like Cliff Richard, or worse, performing matinees in country towns.
Sometimes I wonder if it's vanity or money that makes "old rockers" come back again and again. Surely Paul McCartney can live off the Beatles' royalties forever? Or is it the love of the music? Could he, and indeed many others, not have poured their creative energy into other pursuits, like creating opportunities for the next generation of superstars?
So there you have it, my terrible confession: I prefer to remember the music gods I worshiped in my youth as they were, not as they are today.
How about you? Do you like to see the "golden oldies" still performing, or do you prefer to remember them as they were?
Comments