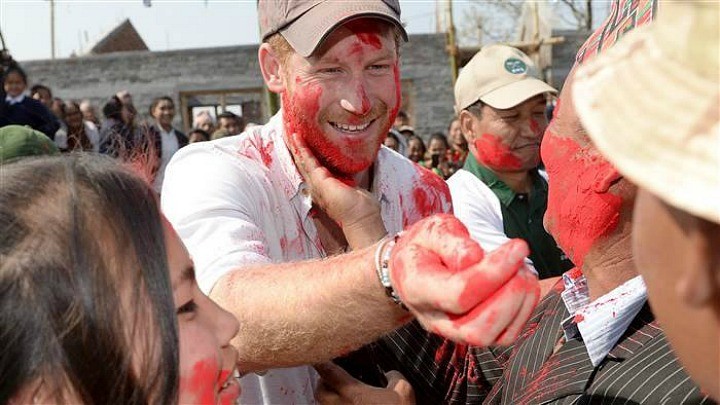 Prince Harry has delighted young patients at a hospital in Nepal after he stopped by to visit on his final day in the country.
The young royal met with children suffering from horrific burns injuries and took the time to chat with each one and their doctors.
Harry is well-known for his easy-going nature and he lived up to his reputation, making the children laugh by playing with their dolls and handing out high-fives.
Many of the children were injured after being displaced by the devastating earthquake in Nepal last year, and Harry made the special trip to the country to see how they were recovering.
One of the children Harry met was five-year-old Pemba who had to have six of his toes amputated after being badly burnt in a fire.
It wasn't long before Harry had the young boy laughing and smiling happily as he pulled funny faces and played games with him.
Pemba's mother was delighted by the prince and the fact that he took the time to sit with her son.
"It was very nice to meet Prince Harry and I found him very handsome," she said.
"He came from so far and he has seen so much and he understood so many things. He talked to Pemba and it was very lively!"
Yesterday was supposed to be the last day of his tour, but Harry had other plans and announced at the hospital he is going to stay for an extra six days to help rebuild a school that was badly damaged by the earthquake.
"The people I have met and the beauty of this country make it very hard to leave," he said.
"Thankfully however, I'm not leaving just yet! I will be spending the next six days in a remote village with a charity called Team Rubicon."
He added: "At the start of this visit I said that I hoped to shine a spotlight on the resilience and resolve of the people of Nepal.
"Nearly a year on from the earthquakes that took so many lives, I wanted to pay my respects; but also I wanted to show that this country was open for business and has so much to offer. The people I have met on this journey have made this goal so easy."
Harry will now head to the village begin rebuilding the damaged school.
Are you a fan of Prince Harry? Do you think he is making the Royal Family proud?
Comments